October 14, 2021 –  8i, a provider of technology for the capture, transformation and streaming of holograms (aka volumetric video or 3D video), and 8th Wall, a provider of an augmented reality (AR) platform for the creation of frictionless AR content for the mobile web (WebAR), have today debuted their integrated hologram solution as part of an event that featured the world's first live streamed hologram interview in WebAR.
The launch of 8i and 8th Wall's integration took place at an exclusive event today, where a real-time volumetric video was broadcast live in WebAR, in which 8i CEO, Hayes Mackaman, and 8th Wall CEO and Founder, Erik Murphy-Chutorian, were interviewed by Catherine Henry, SVP Growth: 5G, Creative VR/AR/ XR Strategy and Innovation at Media.Monks.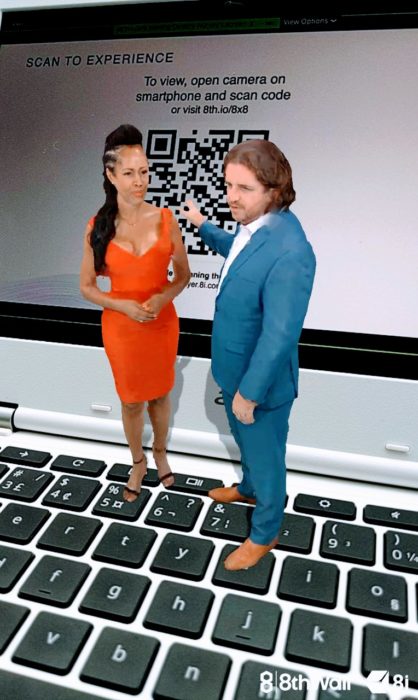 According to the companies, real-time holograms represent a fundamental advancement in volumetric video technology that enables the future of communication in 3D, where real people — not avatars — are brought into immersive digital environments all within milliseconds, something that the companies add is an industry first. 8th Wall's AR engine enables high quality, interactive augmented reality experiences to work in the browser, requiring no app to download.
The collaborative partnership between 8i and 8th Wall combines the company's two technologies to provide an integrated end-to-end solution to capture, transform and livestream volumetric video in WebAR. Experiences can then be accessed on nearly 3.5 billion iOS and Android devices with no app required to download. Users simply click a link or scan a QR code and are brought to a web page where they can instantly place a hologram in their personal space using AR. 
"Holograms are no longer the stuff of science fiction. Real-time holograms empower an entirely new range of experiences for consumers that will foster deeper communication and connection, put you in the front row of a concert or sporting event, eliminate barriers of entry and democratize open access to education, training, information and resources — and ultimately level the playing field between the haves and have nots," said Hayes Mackaman, CEO of 8i. "Consumers will be able to experience, interact with and replay content in a totally new, immersive way from any angle or perspective, ushering in a new era in the way society communicates, learns, works and plays. Across all industries, there are multiple opportunities and use cases for real-time holograms to enhance our daily lives."  
How Real-time WebAR Holograms Work.
The ability to capture people on a hologram stage, transform them into a 3D asset, stream them to any device in real-time, and place them in a user's world space is made possible by the culmination of numerous cutting edge technologies. The process includes:
Capturing volumetric video from an array of computer vision cameras;

Fusing the footage from multiple camera angles in real-time into a single 3D asset;

Leveraging proprietary machine learning algorithms to compress the 3D footage into a streamable size, and lastly, 

Streaming the real-time hologram in an AR-enabled web page using a proprietary SLAM (Simultaneous Localization And Mapping) system

hyper-optimized for the browser. 
"WebAR is a natural medium for hologram distribution. The integration between 8i and 8th Wall unlocks the ability to livestream volumetric video in AR in a mobile browser, making it accessible to millions of users on a device they are using everyday," said Erik Murphy-Chutorian, CEO and Founder of 8th Wall. "This end-to-end hologram solution opens up immersive and personalized opportunities for brands to engage customers wherever they are. We are excited to work with 8i to bring live streaming into the next dimension, all with no app required." 
For more information on 8i and its volumetric capture technology, click here. To find out more about 8th Wall and its WebAR platform, click here.
Image credit: 8i / 8th Wall
Sam is the Founder and Managing Editor of Auganix. With a background in research and report writing, he has been covering XR industry news for the past seven years.