August 31, 2021 – Lenovo, a global technology provider, and RealWear, a provider of assisted reality solutions for frontline industrial workers, have today announced a global collaboration to bring assisted reality solutions to enterprise customers. The companies stated that through their combined technologies and resources, customers will be able to select, deploy and scale right-fit extended reality (XR) technologies worldwide. 
Under the collaboration, Lenovo has certified the RealWear HMT-1 devices for use on its ThinkReality platform, expanding frontline workers' access to optimised, hands-free 2D applications. Additionally, Lenovo will offer RealWear's HMT-1 family of assisted reality wearable devices through its global sales network.  
Lenovo's ThinkReality platform offers a cloud and device-agnostic XR software solution for enterprise deployments, and provides enterprise customers with development and management tools, including a software development kit, content and device management services, enterprise integration, a developer portal, and ready-to-use microservices. ThinkReality also includes ready-made solutions for XR applications such as remote assistance, guided workflow and training, remote data visualisation and design collaboration.
The RealWear HMT-1 monocular device is a ruggedised head-mounted wearable that gives industrial workers real-time access to information and expertise, while keeping their hands and field of view free for work. The HMT-1 can be used via voice commands to allow workers to access remote assistance or mentor video calling, document navigation, guided workflow, mobile forms and industrial IoT data visualisation, and boasts more than 200 voice-controlled apps, according to RealWear. The device is also fully compatible with worker Personal Protective Equipment (PPE) and is purpose-built for industry and enterprise. 
"Our collaboration with Lenovo will provide a rich and powerful experience for frontline workers while enhancing worker safety," said Sanjay Jhawar, Co-founder and President, RealWear. "We're excited to help bring the benefits of HMT-1 assisted reality solutions to Lenovo's enterprise customers globally, leveraging a strong ecosystem of collaboration and productivity software tools for digital transformation. Additionally, we look forward to expanding our cooperation with Lenovo in the future across a range of end-user experience driven initiatives."  
With the addition of the RealWear HMT-1, Lenovo's ThinkReality platform now supports a full range of solutions across the XR spectrum, including assisted reality with the HMT-1; augmented reality (AR) with Lenovo's ThinkReality A3 smart glasses; mixed reality (MR) through the ThinkReality A6 device; and finally the fully immersive experience of virtual reality (VR) with the Lenovo Mirage VRS3 all-in-one VR headset.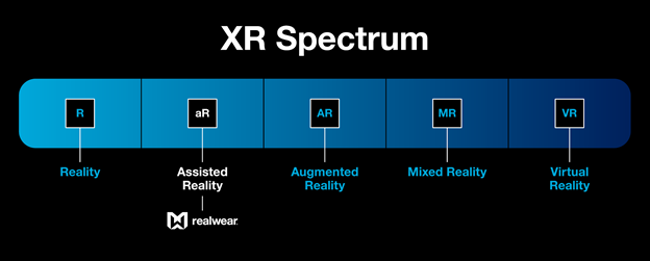 "To fulfill the ThinkReality vision of making it easier than ever to build, deploy, and manage enterprise XR solutions at scale, Lenovo is collaborating with a growing ecosystem of hardware and software solution providers," said Jon Pershke, Vice President of Strategy and Emerging Business Development, Lenovo Intelligent Devices Group. "The addition of RealWear's field-proven monocular device on the ThinkReality platform means we'll be able to support an even larger and growing number of enterprise customers as they equip industrial frontline workers with cutting-edge XR technology that improves workplace safety and drives unprecedented ROI." 
The ThinkReality platform and devices are supported by Lenovo Integrated Solution Services (LISS), a global end-to-end service program that supports the relevant hardware, software, and services to provide an advanced level of care throughout a solution's lifecycle.
For more information on Lenovo and its XR solutions for enterprise, click here. For more information on RealWear and its assisted reality devices, click here.
Image credit: Lenovo / RealWear
Sam is the Founder and Managing Editor of Auganix. With a background in research and report writing, he has been covering XR industry news for the past seven years.