October 10, 2022 – MICLEDI Microdisplays, a developer of microLED displays for augmented reality (AR) glasses, and Kura Technologies, a provider of AR headset technologies, have recently announced a collaboration to manufacture AR glasses.
The two companies have been working together for over a year, with Kura being one of the first customers to receive microLEDs from MICLEDI, enabling the company to build and test its own AR glasses. The new glasses are designed by Kura and incorporate MICLEDI's 300mm microLED displays to achieve the performance required for Kura's next generation of AR glasses.
Under the partnership, MICLEDI will continue to provide Kura access to devices built in its 200mm fab as well as provide the company with early access to customized blue, green, and red devices as they come from MICLEDI's 300mm wafer foundry.
"MICLEDI is pleased to be an integral part of Kura's innovation journey," said Sean Lord, MICLEDI CEO. "It is very rewarding to serve the needs of a nimble, fast-paced customer like Kura, and it makes us a better company. We've had a chance to visit Kura's office in the Bay Area, meet their team and see their latest developments and demos. We were very impressed by their progress over the years, the multi-disciplinary technical expertise and the field-of-view and clarity of their demos."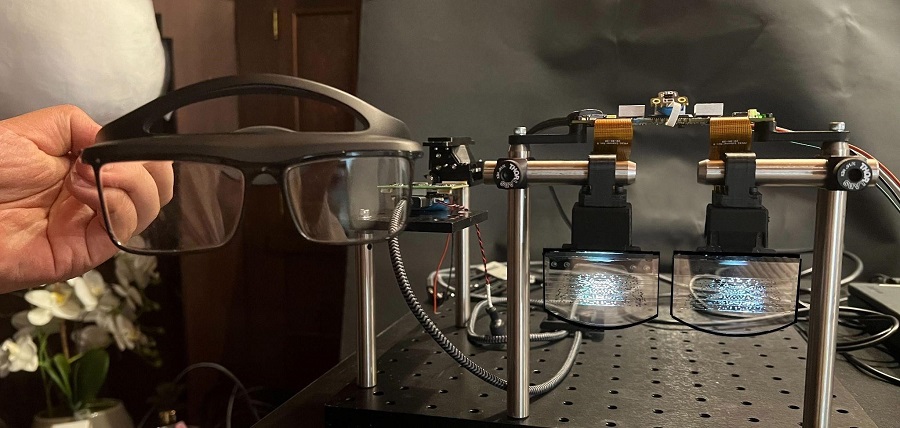 "Kura's fast-paced product engineering team has benefited tremendously from MICLEDI's quick turnaround 200mm prototype fabrication capability and responsive team of professional LED design and process experts," said Kelly Peng, founder, CEO and CTO of Kura. "More importantly, though, we feel that MICLEDI is well-positioned to achieve industry leadership in 300mm microLED fabrication, offering process advantages and direct compatibility with our high performance custom 300mm backplane."
In May of this year, MICLEDI announced a partnership with GlobalFoundries to bring its proprietary 300mm microLED designs into high volume, low cost, mass production. The company's CEO anticipates that working with Kura should provide mutually beneficial timing and mass production ramp plans for both MICLEDI and GlobalFoundries.
According to Kura, its proprietary architecture enables dynamic defect correction, enabling the company to go to market with high performance, 8K AR glasses with the micro-LED panels that can be built now and in the next year, not several years from now.
"The partnership with GlobalFoundries allows us to take advantage of their expertise in large-scale, reliable manufacturing in order to reliably ramp our glasses to the 100,000's of units our customers are demanding. We're excited to be the only AR company we're aware of that is working with such a large foundry to build our custom microdisplays," commented Bayley Wang, co-founder and Technical Lead of Kura.
For more information on MICLEDI and its microLED displays for AR, click here. To find out more about Kura and its augmented reality headset technology, click here.
Image credit: MICLEDI Microdisplays / Kura Technologies
Sam is the Founder and Managing Editor of Auganix. With a background in research and report writing, he has been covering XR industry news for the past seven years.