January 17, 2023 – Varjo, a maker of professional-grade virtual and extended reality (VR/XR) hardware and software, has recently announced that London-based VR company MXT is working with the UK government's National Highways company (formerly the Highways Agency) to provide mixed reality (MR) training solutions for the organization's patrol officers.
According to a recent case study by Varjo, MXT is creating a custom experience for National Highways that combines Varjo's latest XR-3 headset, a motion rig and immersive sound design to provide a state-of-the-art mixed reality driver training simulator that puts officers through a range of demanding training scenarios, including professional driving maneuvers and techniques, in order to help prepare officers for what they might encounter out on patrol.
"The challenge that National Highways have is that most of their most important scenarios are hard to replicate in the real world for various reasons," explained Josh Thompson, MXT's Program Manager who is overseeing the development of the simulator. "Of course you can teach the theory in a classroom, but that can't really replicate the stresses of being out on the road."
Initially MXT considered using either 2D screens or VR, but found that both technologies have their limitations when it comes to either immersivity or the ability to perform physical interactions. Instead, the company opted to explore mixed reality.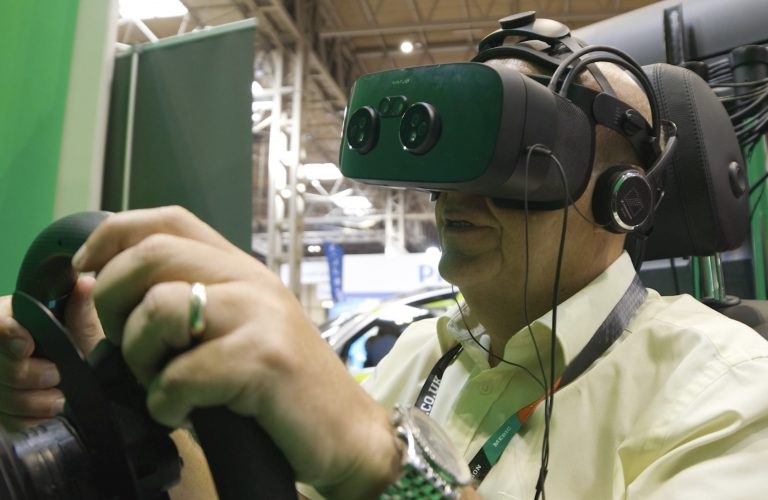 "What XR allows you to do is split the difference and take the best of both approaches," added Thompson. "It puts the user in the car and allows them to interact with it as they would normally, but it also allows the trainer to control a simulated scenario, whilst keeping that vital sense of presence that is key to effective experiential training."
Once strapped into the simulator, trainees find themselves right behind the wheel of a National Highways' Traffic Officer Vehicle (TOV), with access to all the controls, switches and buttons found in the real thing. From there, users are able to navigate a series of different road layouts.
In terms of hardware, the simulator uses the XR-3 headset to ensure that the experience is as detailed and immersive as possible. Additionally, MXT is collaborating with Motion Systems, a provider and manufacturer of high performing motion technology, to create the motion platform that replicates the conditions inside a National Highways' TOV.
"It was vital that we worked with a headset that can deliver an experience as detailed and immersive as possible," said Cathal Flynn, Lead Programmer at MXT. "The Varjo XR-3 is without doubt the best."
For software, MXT's in-house software has been designed with flexibility and utility in mind. As a result, National Highways teams are able to build accurate sections of UK roads as needed, with in-built traffic management and environmental tools that allow for the accurate recreation of most UK motorway conditions. The result is a training solution that is "extremely malleable, cost effective, and able to render large numbers of different scenarios and incorporate various levels of hazard," according to Varjo.
MXT noted that its goal is to create a general purpose tool that allows trainers to craft their scenarios as much as possible. Once completed, the custom experience for National Highways will be able to effectively replicate real-world situations, such as an overturned lorry or other common scenes.
To learn more about Varjo and its XR-3 headset, click here. To learn more about MXT and its immersive solutions for businesses, click here.
Image credit: Varjo / MXT
Sam is the Founder and Managing Editor of Auganix. With a background in research and report writing, he has been covering XR industry news for the past seven years.