May 5, 2021 – Poplar Studio, a provider of an augmented reality (AR) and 3D platform for marketing and e-commerce, has announced a new partnership with Raydiant, a provider of an in-location experiences platform. As part of the partnership, Poplar Studio will offer AR and 3D experiences to be displayable in the in-store digital screens of Raydiant customers, enabling them to enhance their in-store shopping experiences. Among the solutions available will be virtual "try-on" technology, interactive treasure hunts, mini games and more. 
According to Poplar Studio, the partnership comes at a critical time for retailers, given the challenges of the Covid-19 pandemic, and will help enable retailers to provide a safe post-pandemic immersive shopping experience. While sectors of the public remain hesitant to walk into stores and physically try on clothing and other items, the general trend points towards retail sales growing in the coming months, according to Poplar.
Commenting on the new partnership, David Ripert, co-founder and CEO of Poplar Studio, said: "The Covid-19 pandemic has only accelerated a trend in physical store closures globally which started a few years ago, in parallel with the rise of e-commerce. Customers are now not only familiar with digital shopping, but expect to use technology as part of their shopping habits, from product discovery through to conversion. Retailers need to transform their physical offering and adopt new digital tools like AR virtual try-ons and 3D product visualisation, in order to appear innovative, providing a shopping experience that is safe, practical and engaging. By partnering with Raydiant, Poplar Studio is proud to help retailers build the store of the future."
With more shoppers using their mobile devices to look up product information and pricing while shopping in-store, the partnership is also a natural progression in retail innovation. Through AR and 3D technology such as "magic mirrors" and product visualisation experiences, customers will now be able to visualise products by standing in front of in-store screens, or by scanning QR codes on these screens that will trigger experiences or bring up 3D models of products on shoppers' mobile devices.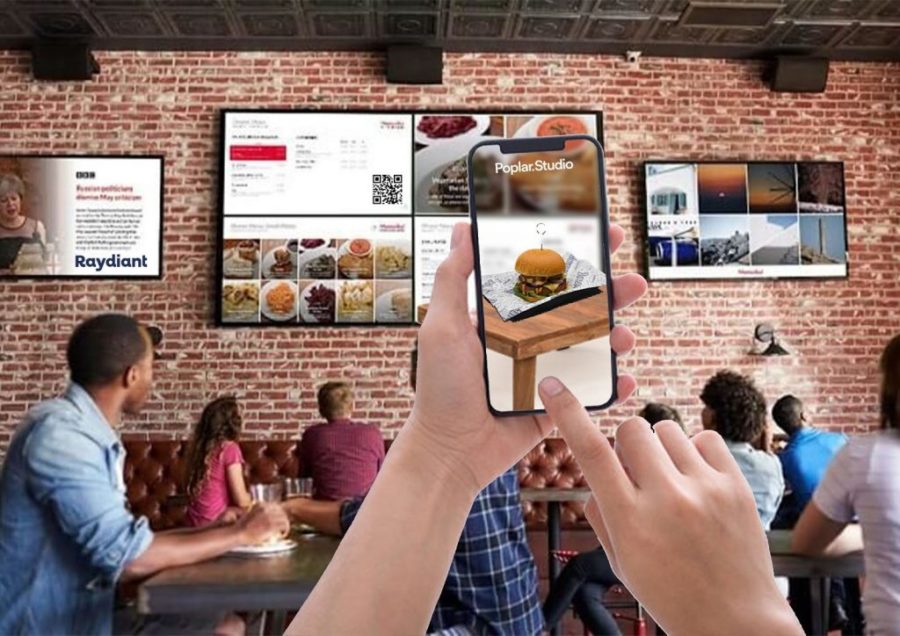 Poplar noted that AR and 3D can help to increase customer confidence, increase sales and reduce returns. In addition, virtual try-on AR experiences can help retailers tackle the limited capacity for stock, allowing customers to engage with products virtually rather than physically, while remaining in-store.
Also on offer will be AR experiences intended to entertain customers, such as virtual treasure hunts taking customers through the store in search of "easter eggs", and mini-games to help keep themselves and children entertained while waiting in line.
Bobby Marmahat, CEO of Raydiant, said: "Our #1 goal at Raydiant is to provide businesses with the best solution on the market for creating in-location experiences that 'WOW' their customers. As the pandemic comes to an end, shoppers are looking for convenient, enjoyable experiences that make them feel clean and safe. This is why the digital shopping experience has quickly become a must-have for successful retailers everywhere and also why we are thrilled to add Poplar Studios as the next addition to our partner ecosystem Marketplace. We believe that this partnership is the next step to creating a better, more enjoyable in-location experience for retailers everywhere."
For more information on Poplar Studios and its augmented reality marketing and e-commerce platform, please visit the company's website.
Image credit: Poplar Studios
Sam is the Founder and Managing Editor of Auganix. With a background in research and report writing, he has been covering XR industry news for the past seven years.