In Augmented Reality and Mixed Reality News
November 9, 2021 – Global semiconductor company Qualcomm Technologies, Inc., has today introduced Snapdragon Spaces XR Developer Platform, a headworn Augmented Reality (AR) developer kit designed to enable the creation of immersive experiences that blur the lines between physical and digital realities. Snapdragon Spaces is in early access with select developers and is expected to be generally available in the Spring of 2022.
According to Qualcomm, Snapdragon Spaces enables developers to build 3D applications for AR glasses from scratch or simply add headworn AR features to existing Android smartphone applications to drive a unified, multi-screen experience between the smartphone screen in 2D and the real world in 3D.
Through Snapdragon Spaces, developers will be provided with machine perception technology that the company states is optimized for performance and low power for the next generation of AR glasses. The platform provides environmental and user understanding capabilities that give developers the tools to create headworn AR experiences that can sense and intelligently interact with the user and adapt to their physical indoor spaces.
The platform's environmental understanding features include spatial mapping and meshing, occlusion, plane detection, object and image recognition and tracking, local anchors and persistence, and scene understanding. The user understanding machine perception features include positional tracking and hand tracking. Developers will also receive a resource library that includes documentation, sample code, tutorials, knowledge bases, and tools to help accelerate their development.
Snapdragon Spaces is in early access with select AR developers and launching today is the Snapdragon Spaces Pathfinder Program, designed to support AR innovators through early access to platform technology, project funding, co-marketing and promotion, and hardware development kits to help grow an active community of Snapdragon Spaces developers.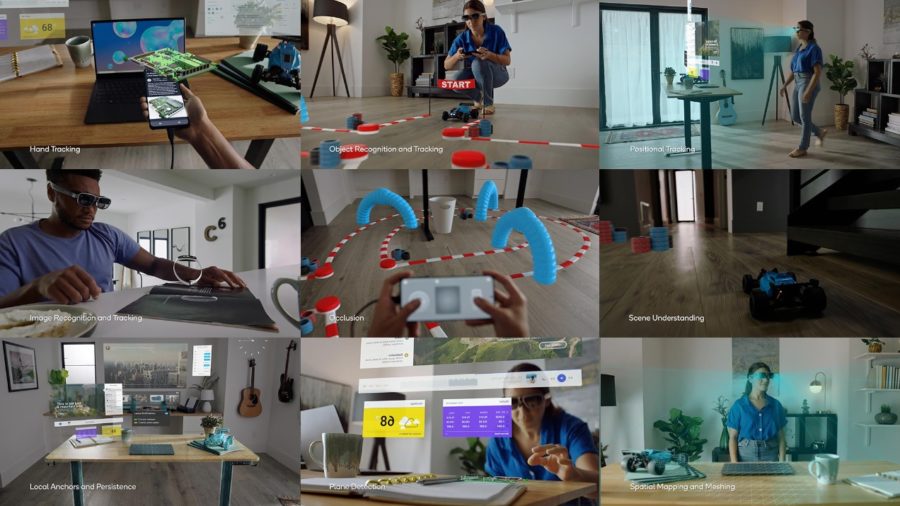 Open Cross-device Platform and Ecosystem
Qualcomm stated that reducing development and commercialization friction for developers is at the heart of Snapdragon Spaces. The platform takes a direct-to-consumer approach that allows developers to build immersive applications for AR glasses and make them accessible to end users leveraging existing smartphone digital distribution stores globally. Snapdragon Spaces includes software developer kits (SDKs) for leading 3D Engines, including Unreal Engine and Unity. Furthermore, Niantic Inc.'s Lightship developer platform, launched this week, will integrate with Snapdragon Spaces to enable developers to create planet-scale AR experiences, thus expanding reach to outdoor headworn use cases.
The Snapdragon Spaces platform also supports app portability and unified workflows with Unity AR Foundation and Unity MARS, enabling developers on the platform to create experiences that fully integrate with the real world. Snapdragon Spaces is based on the Khronos OpenXR specification to enable application portability and is the first headworn AR platform optimized for AR Glasses tethered to smartphones with an OpenXR conformant runtime, according to Qualcomm.

"The Snapdragon SpacesXR Developer Platform underscores our commitment to empowering developers to explore bravely and create confidently, paving the way to a new frontier of spatial computing," said Hugo Swart, Vice President and General Manager of XR, Qualcomm Technologies, Inc. "Snapdragon Spaces is designed to support the democratization of XR by taking a horizontal, open channel approach so developers can rapidly bring their ideas to life and reach a wide range of end users. We welcome developers to join us in this journey to reimagine reality."
In addition to announcing the new Snapdragon Spaces platform, Qualcomm has also announced that it has acquired the team and certain technology assets from HINS SAS and its wholly owned subsidiary, Clay AIR, Inc., a provider of hand tracking and gesture recognition solutions. The acquisition of Clay AIR, Inc., along with the acquisition of Wikitude, which the company confirmed in September, combined with the launch of Snapdragon Spaces, will help Qualcomm and developers to accelerate the transition from smartphone to headworn AR, according to the company.
Finally, Qualcomm added that leading smartphone and AR hardware OEMs including Lenovo, Motorola, OPPO, and Xiaomi are initial partners to support Snapdragon Spaces in 2022, with the Lenovo ThinkReality A3 smart glasses paired with a Motorola Smartphone as the first to commercialize Snapdragon Spaces. Qualcomm is also working with an ecosystem of global mobile network operators, to help scale and bring AR glasses tethered to smartphones supporting Snapdragon Spaces to commercialization starting next year. 
Developers interested in taking advantage of the Snapdragon Spaces platform can learn more and apply to the Pathfinder program by visiting Qualcomm's website.
Image / video credit: Qualcomm
Sam is the Founder and Managing Editor of Auganix. With a background in research and report writing, he has been covering XR industry news for the past seven years.