December 4, 2020 –  Rokid, a provider of augmented and mixed reality (AR/MR) glasses, in partnership with China National Petroleum Corporation (CNPC), has recently announced the launch of a new 5G explosion-proof AR headband device called 'X-Craft', designed to promote the digital transformation for the oil and gas industry. The X-Craft device features AR solutions and a remote collaboration system that help to increase frontline worker safety and productivity whilst operating in high-risk zones.
According to Rokid, the X-Craft is compatible with standard helmets, and consists of a removable headband and buckle that can expand or contract in order to fit different sized helmets. The X-Craft device features:
Binocular AR display attached to the front of the headband, which can be flipped up to exit out of mixed reality;

40° field of view (FoV) display with waveguide optics technology that enables see-through display and high contrast ratio;

Light transmittance of more than 80%;

Shading lens that allows the wearer to see content in different environments and lighting;

Large physical dials and buttons that enable wearers to easily locate and use, even whilst wearing gloves;

"SOS" function that allows the wearer to immediately call for help in the event of an emergency.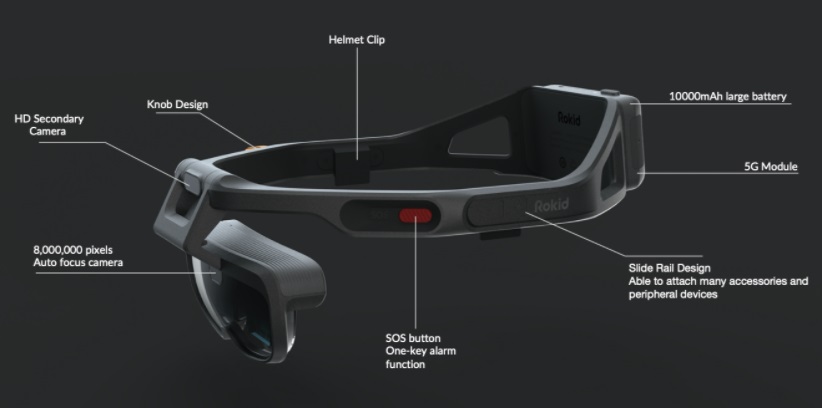 The X-Craft can also attach other accessories and peripheral devices, such as an industrial endoscope or infrared sensor modules, to expand its functionality. The device has been rated as IP66 waterproof and dustproof, and is ATEX/IECEx certified for intrinsic safety zone 1 and zone 2. Rokid states that the device has been specially designed for complex and high-risk environments such as oil & gas, electric power, aviation, rail transport, and many other industries.
Also included on the X-Craft is a 5G module, ensuring a seamless experience when frontline workers call experts or receive remote training sessions through the device's remote collaboration system. The main features of this system include multi-person collaboration, screen and camera sharing, live annotation, whiteboard, and video recording, all of which can assist frontline workers in solving complex issues efficiently, and help companies avoid additional travel costs and maintenance downtime.
Furthermore, the device is able to process large amounts of data through the intelligent cloud with the 5G module. The X-Craft comes with hands-free voice-operated AR functionality, which allows workers to reference documents, 3D models, operation e-manuals, and inspect machines while using their hands to perform tasks. The device can detect voice commands in noisy industrial working environments up to 85 decibels. An AI algorithm within the device provides further efficiency by enabling the worker to update asset information automatically.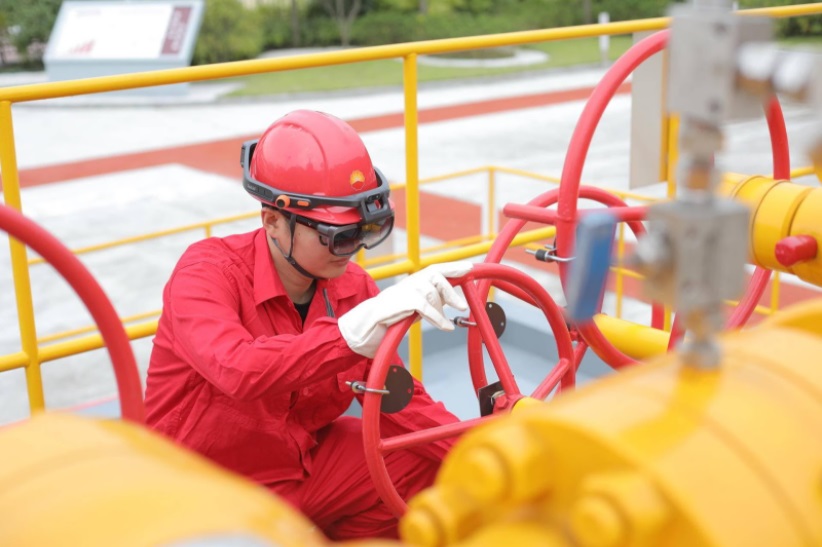 "The traditional oil & gas industry faces problems such labor shortage, high barrier of effective communication and high proportion of man-made hazards," said Sun Shisheng, Head of CNPC Engineering Technology Internet of Things Laboratory. "The integration of AR, AI and 5G are essential to empowering the industry for its digital transformation and to solve these problems. We hope to be able to create a new generation of 'super workers' with this product."
"Rokid is very pleased and honored to partner with CNPC, integrating AR products and solutions that promote safety and effectively improve productivity for frontline workers," said Zhu Mingming, Rokid Founder and CEO. "Rokid hopes to partner with more companies from the energy, manufacturing, and power sectors to witness the rise of AR + Industrial Era."
For more information on Rokid and its augmented reality solutions for industry, please visit the company's website.
Image credit: Rokid
Sam is the Founder and Managing Editor of Auganix. With a background in research and report writing, he has been covering XR industry news for the past seven years.