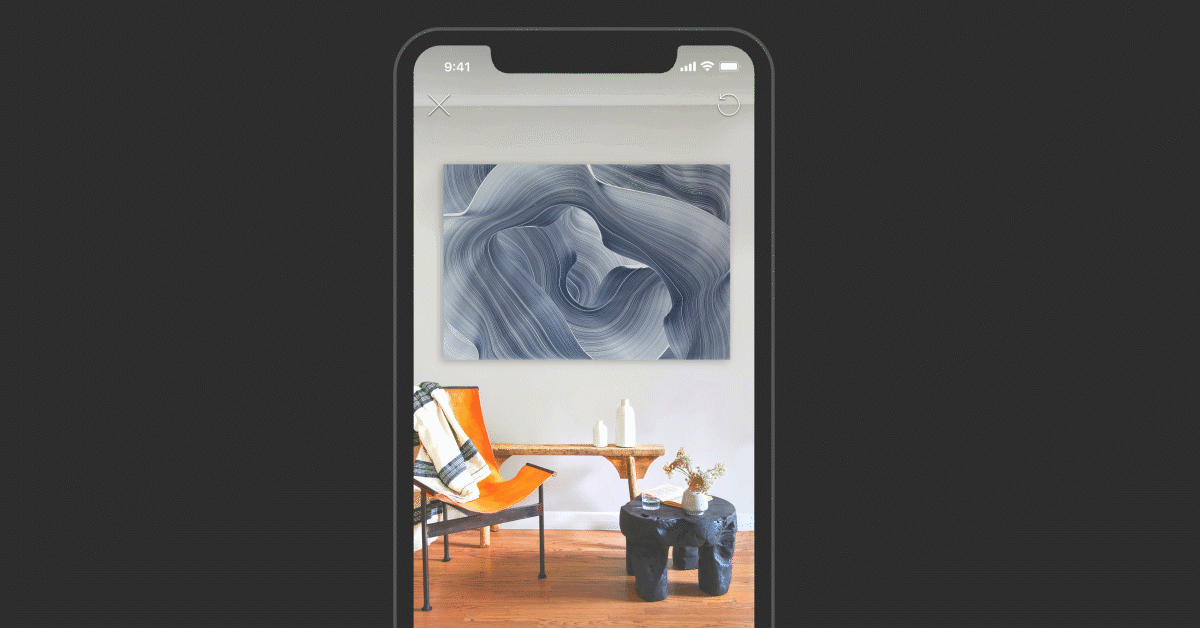 August 18, 2020 – Online art gallery, Saatchi Art, has recently announced the launch of its web-based augmented reality (AR) "View in a Room" feature for customers on mobile web. The new feature allows visitors to the site to view over a million works of art in their home before buying online, and is part of Saatchi Art's latest investment in mobile. 
Saatchi Art states that it has seen record numbers of customers from mobile web over the past year, and that since Spring 2019, the online art platform has seen a significant shift in its customer behavior, with mobile web users outpacing desktop. In Q2 2020, Saatchi Art's mobile transactions grew 100% year-over-year, according to the company.
The new mobile AR "View in a Room" feature, previously only available to app users, allows art buyers to select artworks and instantly view them on their own walls at home through a smartphone or tablet device. Through two simple steps, users can easily "test" artworks in their home to ensure that pieces are suitable before purchasing.
"We know from customer surveys that over 70% of art buyers are hesitant to purchase because they can't see the artwork in advance. By offering the ability to view an artwork via augmented reality on mobile, buyers will instantly see the beauty of the artwork in their home and will feel confident in their purchase," said Jeanne Anderson, General Manager of Saatchi Art.
She added, "As one of the world's largest online art galleries, we have always looked to innovate within our industry. Creating thoughtful, useful tools for mobile web users is just another example of our dedication to our art buyers and part of our ongoing effort to make it easier for them to discover and buy art they love."
… those who utilize the AR feature are "significantly more likely to purchase."
According to Saatchi Art, since launching AR in its app in April 2018, the tool has been key in driving confidence for customers, as those who utilize the AR feature are "significantly more likely to purchase." With this launch, Saatchi Art is now able to provide augmented reality functionality to the majority of its art buyers in their web browsers, without the requirement for an app to run the experience. This is because the feature, which was developed by AR design firm Rock Paper Reality, runs on 8th Wall's WebAR technology platform.
"This is a huge moment for AR and an equally big moment for online shopping and the arts," said Patrick Johnson, CEO of Rock Paper Reality. "The 'View In A Room'' AR feature is the largest deployment of WebAR to date and clearly demonstrates how AR can be deployed online and at scale when done right. For the first-time ever, over a million pieces of art can be visualized by countless consumers across the globe, ultimately improving buyer confidence, driving sales conversions, and increasing loyalty to the Saatchi Art brand."
The solution was designed & architected for scalability across the entire site, each art piece is dynamically scaled based on the artwork's metadata and deployed into AR on a 3D canvas with the approximate real-world dimensions of the physical artwork.
"Saatchi Art's site-wide rollout of augmented reality reflects a significant shift we are witnessing on the web as the e-commerce experience moves from 2D to 3D to make it feel more physical," said Erik Murphy-Chutorian, Founder and CEO of 8th Wall. "The 8th Wall platform is designed to give developers complete control over their AR content, and it's great to see Rock Paper Reality leverage this to develop a dynamic solution for Saatchi Art at such an impressive scale. We are excited that a major retailer is embracing AR as a powerful product visualization tool to elevate the online art buying experience."
For more information on Saatchi Art, or to view the new augmented reality mobile web tool, please visit the Saatchi Art website.
Image / video credit: Saatchi Art / 8th Wall
Sam is the Founder and Managing Editor of Auganix. With a background in research and report writing, he has been covering XR industry news for the past seven years.