April 21, 2022 – Virti, a provider of experiential immersive training solutions for the enterprise, has announced that it is working with HTC and Taipei Medical University (TMU) to transform food safety training in Taiwan.
According to Virti, HTC is working with TMU's School of Food Safety to develop food safety training content in virtual reality (VR). The content will be deployed to food factories across the country to drive digital transformation and develop Taiwan's food safety industry through engaging and effective training.
To deliver the training, HTC has partnered with the team at Virti. Founded by NHS surgeon Dr Alex Young in 2018, the Virti platform enables organizations to build and edit their own immersive virtual and augmented reality training materials using an end-to-end simulation suite, to improve how teams learn and perform.
Virti stated that Professor Hui-Ting Yang at TMU is using its platform to create VR simulations that will enable food factory workers to practice food safety protocols in a safe and realistic environment, away from the field. Using VR training simulations accessed using HTC's VIVE and VIVE Flow headsets, workers are able to familiarize themselves with restaurant and factory kitchens, learn how to operate within kitchens safely, inspect food products and practice preparing, cooking and serving food using the highest hygiene standards.
Simulations have also been designed to help learners practice identifying and analyzing potential hazards such as wet floors or poor lighting – as well as how to manage workplace stress and coordinate an emergency response to incidents such as kitchen fires. Over fifty students have accessed the training so far, according to Virti.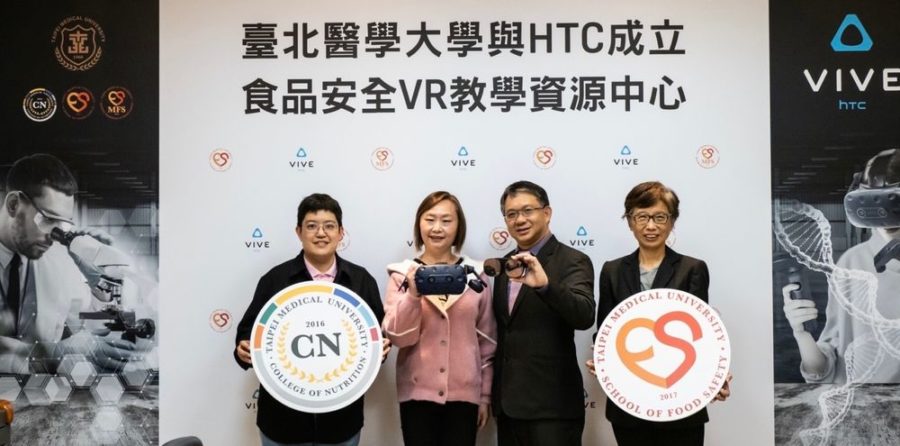 Alex Young, CEO and founder of Virti, said: "We're delighted to be working with HTC and Taipei Medical University so that students can benefit from new opportunities to learn and teach food safety skills using Virti's engaging, interactive and intuitive technology. The process of developing their own VR simulations and sharing them with peers will not only help students consolidate what they've been learning, but it will also help them develop transferable soft skills that will stand them in good stead when they enter the world of work."
Raymond Pao, Senior Vice President of HTC, also commented: "VR training has been implemented in teaching and learning in diverse types of businesses and schools. Immersive learning experiences can simulate real emergencies and reinforce correct contingency response-ability in students. Students can also use the Virti 360 VR platform partnered with HTC to easily create their own VR teaching materials to produce all kinds of VR content relevant to their learning syllabus."
Pao added that through industry-academia collaboration, materials can also be imported into the employee training programs of domestic smart food factories in order to help benefit the food safety industry. This would enable employees to practice relevant standard operating procedures (SOPs) in simulated VR scenarios to help strengthen their learning effectiveness.
Professor Yue-Hwa Chen, Director of the Taipei Medical University School of Food Safety Department said: "We are constantly thinking about how to increase the learning interest and effectiveness of students. The integration with VR technology has given us new ideas in our course designs and the opportunity to implement teaching materials into transformation counseling for Taiwan's food processing factories. This teaching center leads teaching assistants to smart food factories where they can discuss the employee SOP training process with factory managers.
Chen also stated that employee operational errors and food contamination due to improper handling in the food industry can be reduced through the implementation of VR teaching materials.
For more information on Virti and its virtual reality training solutions, please visit the company's website.
Image credit: Virti
Sam is the Founder and Managing Editor of Auganix. With a background in research and report writing, he has been covering XR industry news for the past seven years.