March 3, 2020 – Virtual meeting company Arthur has announced the launch of its eponymous virtual reality (VR) office and collaboration solution on the Oculus store. Independent professionals will this week have access to the Arthur platform by installing the app directly on to their Oculus Quest and Quest 2 headsets. 
The Arthur app is a VR collaboration solution for enterprise that combines all the advantages of digital meetings with the feeling of in-person presence. Arthur offers a fully-customizable virtual office space that allows dispersed teams and partners to meet, collaborate, and manage the entirety of their workflows.
"We are very excited to be partnering with Oculus in making our acclaimed platform available in the most seamless and effortless method possible," said Christoph Fleischmann, founder and CEO of Arthur. "We are honored to be part of the Oculus VR ecosystem and have every confidence that new business customers experiencing Arthur for the first time will be just as impressed with it as some of the biggest companies in the world were when we announced our open Beta with them at the end of 2020."
Users are able to enter one of several virtual office environments or collaboration spaces that can be easily decorated with standard office equipment such as working monitors, collaborative whiteboards and more. Using Arthur, employees can meet colleagues with true-to-life avatars in a custom 3D office/conference room or even full buildings. Furthermore, Arthur's VR office, rooms and content are fully-customizable and can easily be changed by users on the fly. Not only this, but all Arthur rooms and environments are persistent as well, meaning users can return to virtual rooms as they left them.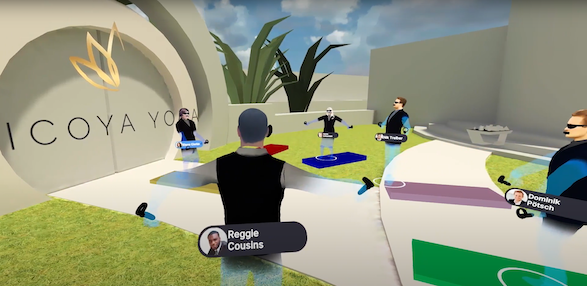 Beyond the obvious benefits that VR collaboration solutions offer, Arthur's main advantages over other alternatives are rooted in the fact that the platform is fully business-ready, according to the company. One such area where this is noticed is in the security of client data, which Arthur places high importance on through the addition of features such as end-to-end encryption. The company also added that its platform is very scalable and reliable, and even with 40+ people in VR simultaneously, high uptimes are guaranteed. 
Arthur is powered by Amazon AWS and the company states that its app can "meet any size environment". Whether an exact replica of a standard office conference room or a more complex environment, Arthur offers an experience optimized for productive meetings that have become necessities in today's world with limited travel and work-from-home. 
The consumer version of Arthur is highly-functional as a collaboration tool but slightly different to the professional version in that it is limited on space, service and team size. The company noted that the main distinction is that the consumer version is suitable for a different target group including startups and professional individuals and a smaller set of use-cases, including white board workshops, simple presentation meetings and other productive meetings of up to 6 people.
There are lots of great VR collaboration and meeting apps available at the moment, but Arthur stands out to us after we tried out the consumer version earlier this week and were extremely impressed with the platform's vast functionality. Features include the ability to import 3D shapes, as is standard in many VR collaboration apps, but in Arthur, you can group shapes together, allowing you to move a whole collection of items as one. Additional details such as being able to add connecting lines between linked shapes made a big difference too. Other features, such as the inclusion of a wristwatch on your avatar that shows the actual time, as well as time spent in a particular collaboration session were great additions that serve a genuinely useful purpose, as it is easy to lose track of time whilst in VR.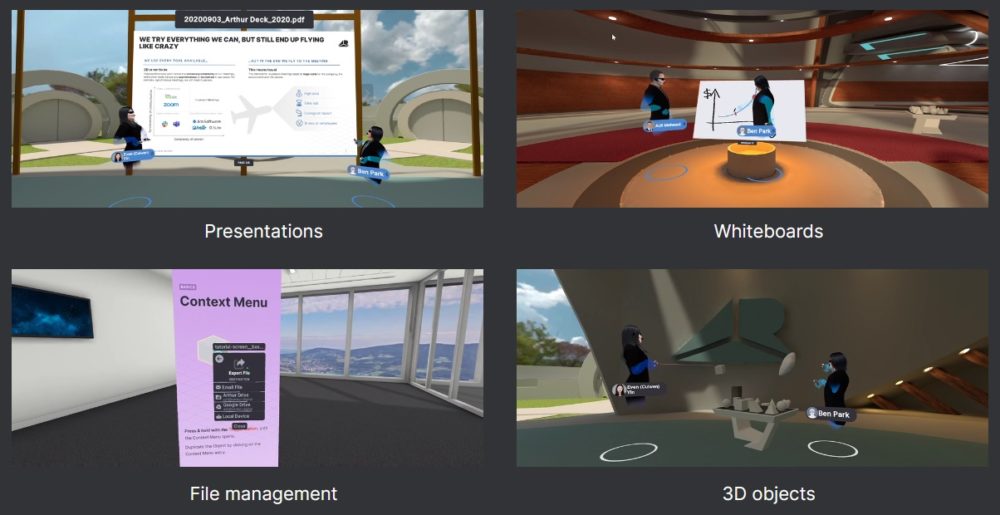 The other impressive feature of the app was just how much users are able to customize a space. Essentially, you can start with an open room, and you are limited only by your imagination in terms of what type of meeting/collaborative environment you want to create. Objects, 3D shapes, textures, whiteboards and more can be added to a space. Sizes (not just scale but actual width/length/height) and colours (using a full RGB colour selector) of objects can also be fully tweaked. What was also amazing was that once a 3D object has been placed in a space, your avatar can then position itself on top of the object, allowing you to essentially build a completely unique space in a Minecraft-style manner.
Finally, all of this building/editing of the space was done in real time, and we experienced zero issues with lag or delays in rendering. In fact, the quality of the experience in VR better than the phone and video call made to set up the meeting in the first place.
Overall, we feel Arthur is certainly going to be up there in terms of 'must-have' virtual collaboration apps for business. It is no surprise then that some of the company's enterprise customers include the United Nations, PWC and French bank and professional services firm Société Générale S.A. Arthur stated that it expects many small businesses to download the new Oculus store version upon release.
The Arthur app will be available for download from the Oculus store this Thursday March 4. For more information on Arthur and its VR collaboration platform, please visit the company's website.
Image / video credit: Arthur / Vimeo
Sam is the Founder and Managing Editor of Auganix. With a background in research and report writing, he has been covering XR industry news for the past seven years.