In Augmented Reality and Mixed Reality News
February 09, 2021 – Arvizio, a provider of augmented and mixed reality (AR/MR) solutions for real time collaboration and visualization, has today announced the launch of its 'Immerse 3D' solution to share and interact with 3D models in AR when using collaborative web meeting platforms such as Microsoft Teams and Zoom. The company stated that with this launch, customers will be able to transform virtual meetings to conduct planning and review sessions using CAD, BIM, and 3D models to visualize AR digital twins. 
Across the globe, businesses have shifted their workforce towards digital engagement as a result of the ongoing pandemic, with many companies now including remote workforce opportunities as a long-term business model. Organizations are now, more than ever, conducting virtual meetings with employees, customers and stakeholders who cannot travel or meet on site. Arvizio is now helping to improve virtual meetings with the inclusion of AR digital twins.
The Arvizio Immerse 3D solution is comprised of the following key components:
Arvizio Director PC or server application where users manage 3D collaboration sessions;

Arvizio Immerse 3D app for 3D model collaboration on phones, tablets & AR headsets;

Arvizio Cloud service suite for secure content synchronization and collaboration.

According to the company, Immerse 3D offers model optimization and efficient WAN transport capabilities to provide efficient data compression and parallel loading of large data sets to multiple AR clients. With on-demand model loading, Arvizio Immerse 3D allows users in industries such as AEC, energy, industrial design, manufacturing, aerospace, government, and educational institutions to utilize 3D data for impactful, interactive web meetings.
How it works: 
The meeting organizer launches a session from the Arvizio Director application;

A QR code for joining the session is shared with participants over the web meeting;

Meeting participants

scan the QR code and join the session with their devices;

3D models are pushed to all participants in real time; no need for each user to download them;

While in the meeting, participants can discuss and mark-up the 3D models in real time;

Once the meeting has concluded, models on the client devices are automatically erased.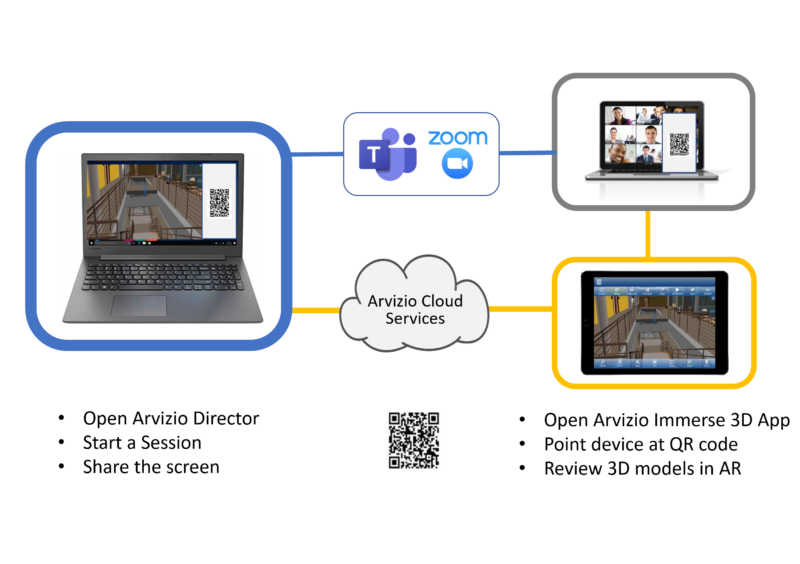 "Bringing augmented reality to web meetings provides a more impactful experience – it's visual, interactive and immersive," said Jonathan Reeves, CEO at Arvizio. "We are empowering our customers to use 3D visualization with stakeholders around the world and use augmented reality for more efficient and realistic project reviews. We're excited to deliver this capability to our customers as remote interactions and digital meetings become the norm."
Arvizio's Immerse 3D can be used on a variety of meeting platforms with screen sharing capabilities including Microsoft Teams, Zoom, Webex, BlueJeans, Amazon Chime and Google Meet. The device app is available for Apple iPhone and iPad, Android phones & tablets, Microsoft HoloLens 2, and Magic Leap devices. In addition, Arvizio's Immerse 3D interfaces to popular cloud, or on premise, IoT data hubs offering the ability to integrate and associate live IoT data with objects in 3D models to create an operational digital twin. 
For more information on Arvizio's and the company's Immerse 3D platform, please visit the company's website.
Image credit: Arvizio
Sam is the Founder and Managing Editor of Auganix. With a background in research and report writing, he has been covering XR industry news for the past seven years.