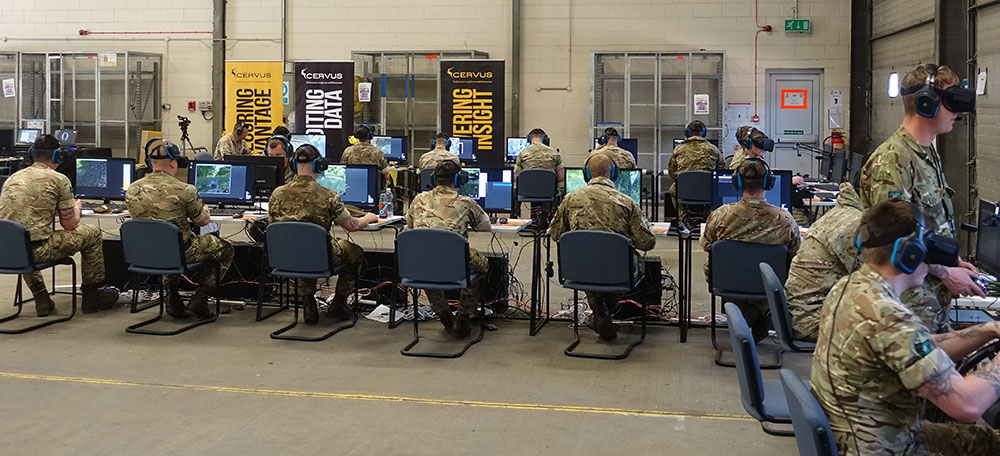 In Virtual Reality and Mixed Reality News
December 2, 2020 – Bohemia Interactive Simulations (BISim), a provider of simulation and training solutions for defense and civilian organizations, has recently announced that it has signed on to continue working with the British Army for the second phase of the Virtual Reality In-Land Training (VRLT2) pilot program, a pathfinder project for the Collective Training Transformation Programme (CTTP).
In February 2019, the British Army selected BISim to lead the VRLT1 program to examine the value that virtual reality (VR) could have for defense training. Almost two years on, the biggest difference between VRLT1 and VRLT2 according to BISim is that now the technology is able to demonstrate the training of Soldiers at the Company level, involving up to 90 trainees.
BISim is serving as the technology partner for the program alongside QinetiQ Training and Simulation as the prime contractor and training delivery partner. The team is using VBS4, BISim's whole-earth virtual and constructive simulation, in order to deliver new training capabilities through VR.
"VR is giving Soldiers a more immersive simulation training experience," said Rusty Orwin, BISim's Head of Sales – UK and Ireland and a former British Army Infantry Major. "Soldiers in VR are more engaged, taking training seriously but also clearly enjoying it more too, and they are more focused during training, which should better prepare them for live training."
BISim stated that during VRLT2 exercises, VBS4 is regularly being used to train 40+ military personnel and can scale for 90 trainees using the company's technology and VR headsets. On these exercises, Soldiers use VBS4's fully integrated support for VR interaction for player movement, including weapon control, handling, player stance, and full-finger tracking to enhance gesturing and complex hand signals. Furthermore, the VBS4 whole-earth terrain database allows users to experience any terrain environment on the planet in VR.
Orwin added: "For the British Army partnering with many nations around the globe, Soldiers can get a look and feel for where they might go or, actually, where they are right now." 
One of the main strengths of VBS4, according to Orwin, is that it enables training in VR not just at the individual, platoon and company level, but also allows Soldiers to train in VR integrated in formations up to brigade level with thousands of units (both friendly and enemy). This creates a complex training environment with simulation of artillery, close air support and even naval gunfire to further immerse trainees.
BISim's technology is capable of being used on an individual level to a sub-unit level and on terrain sizes that a Battlegroup would operate in on live operations. This enables Soldiers to train alongside equipment not normally possible in live exercises.
BISim states that over the last two years its technology has been enhanced for VR and has helped train hundreds of Soldiers ranging from Cavalry, Infantry, Logistics, Army Air Corps and Royal Artillery. BISim's software has been combined with partner technologies to simulate a broad range of systems including instrumented Light Guns, AFC control systems, simulated CR2 turret trainers and synthetic wrap-style ISTAR feeds. It is also integrated with Cervus Defence and Security's Hive Engine for training data exploitation.
Orwin continued: "[VRLT2] is providing the Army with valuable insights for CTTP and showing where the Army can rapidly incorporate VR into training exercises to provide increased capabilities, better experiences and troop readiness." 
The VRLT pilot was led by BISim and delivered a series of 26 innovations over the course of the pilot study in 2019. Innovations included a high-fidelity 3D model of the Warrior Infantry Fighting Vehicle for VR, an automated system for monitoring individual performance, and the use of mixed reality to allow users to take notes and annotate maps during exercises or display battlespace management applications without breaking immersion.
For more information on BISim's virtual reality training solutions, please visit the company's website.
Image credit: BISim
Sam is the Founder and Managing Editor of Auganix. With a background in research and report writing, he has been covering XR industry news for the past seven years.