October 13, 2020 –  FOVE, Inc. has today announced the launch of version 1.0 of its FOVE virtual reality (VR) platform with eye tracking. The major software update will unlock the full potential of the company's 'FOVE0' VR HMD with eye tracking, and will come as a 'FOVE Pro' and 'FOVE Enterprise' version.
Eye tracking is considered an important standard feature in future VR HMDs for its use in Foveated Rendering – the process by which a user's gaze is tracked, in order to reduce computational workload by reducing the quality of rendering in the periphery where the human eye is less sensitive to detail. FOVE added that in recent years, applications of eye tracking in VR have expanded into new areas, including the medical realm, with the diagnosis of eye conditions, dizziness and drug impairment all examples of growth areas. 
The new FOVE Pro software upgrade, aimed at researchers, includes new features such as the ability to measure eye torsion, useful in the diagnosis of various disorders. Also new is the ability to measure the contours of the eye, which can aid in the understanding of emotional expression. For researchers who work with patients with eye conditions such as strabismus or amblyopia, a new system to allow calibration of one eye at a time has been added. Furthermore, FOVE will provide a VR video player that automatically exports eye tracker data with the pro version.
The Pro version for researchers can acquire eye rotation angles used for nystagmus measurement and eye shape data used for facial expression recognition. In addition, since it is possible to calibrate one eye at a time, even those with a squint can use the line-of-sight tracking function.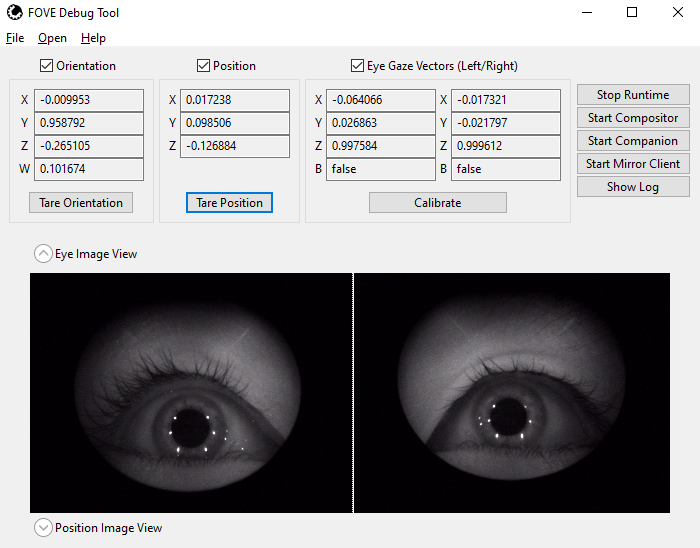 Version 1.0 of FOVE's platform also includes an Enterprise upgrade, which is geared towards companies that deploy eye tracking VR to end users at a larger scale. It includes new features such as single-point calibration, which is quicker than FOVE's traditional smooth-pursuit calibration and useful for kiosks where users come and go quickly, according to the company. The calibration process can also have a custom skin applied to it, in order to fit an application or company theme. In addition, the enterprise version adds support for NVIDIA Jetson Xavier NX embedded and edge computing platforms, allowing for increased portability of deployments.
FOVE Pro and FOVE Enterprise are paid upgrades to the FOVE VR Platform. However, the standard version is also getting a boost. As of today, Ubuntu Linux is officially supported for all current and future users. This includes all VR features, such as the FOVE Compositor, and the full eye tracker. For full information on the development and runtime environment of the FOVE VR platform, click here.
Since the initial launch of the FOVE0 device, FOVE states that it has acquired deep development knowledge of VR HMDs and eye tracking. The company noted that as a result, it will continue to support researchers and developers to build hardware and software through its development tools and by consulting and contributing to the industry. For more information on FOVE, please visit the company's website.
Image credit: FOVE
Sam is the Founder and Managing Editor of Auganix. With a background in research and report writing, he has been covering XR industry news for the past seven years.