January 14, 2021 – RealWear, Inc., a provider of hands-free head-mounted tablets for industry, has announced that geo-data specialist Fugro has selected and deployed the RealWear HMT-1 voice-enabled augmented reality (AR) headsets throughout its fleet.
Fugro collects advanced information about subsurface and structures and conducts the majority of its operations across remote and often harsh environments, both on land and at sea. According to RealWear, the company was looking to see if a wearable solution could reduce the number of site visits whilst maintaining or even improving communication and collaboration amongst its fleet. After consultation with RealWear's partner VR Expert, Fugro selected RealWear's purpose-built wearable technology in order to support its connectivity, ruggedness and safety requirements. 
According to RealWear, Fugro began with a single HMT-1 back in 2019, and gradually increased the number in the field after testing connectivity, durability, user feedback, and potential scale. For connectivity it had to test the video and audio in low bandwidth and extreme weather conditions. To resolve this issue, VR Expert adapted their software to automatically determine and optimize settings based on the users current latency and bandwidth scenario. The software was also integrated into Fugro's IT infrastructure as an on-premise solution. After successfully validating the use case, VR Expert created special kits for Fugro including the headset, accessories and manuals which can now be found on almost every Fugro vessel (which as of 2019 stood at 219 owned or chartered vessels across the globe).
"The VR Expert team offered great advice in choosing the right hardware and accessories for our environment. They also helped validate our use case with extensive testing. In the end, we purchased over 40 RealWear HMT-1s which have been deployed across our global fleet as our Remote Expert solution for providing assistance to our vessels from onshore. We're proud of our teamwork and look forward to expanding business together," commented Hannes Swiegers, Global Director Remote Operations and Support Services, Fugro.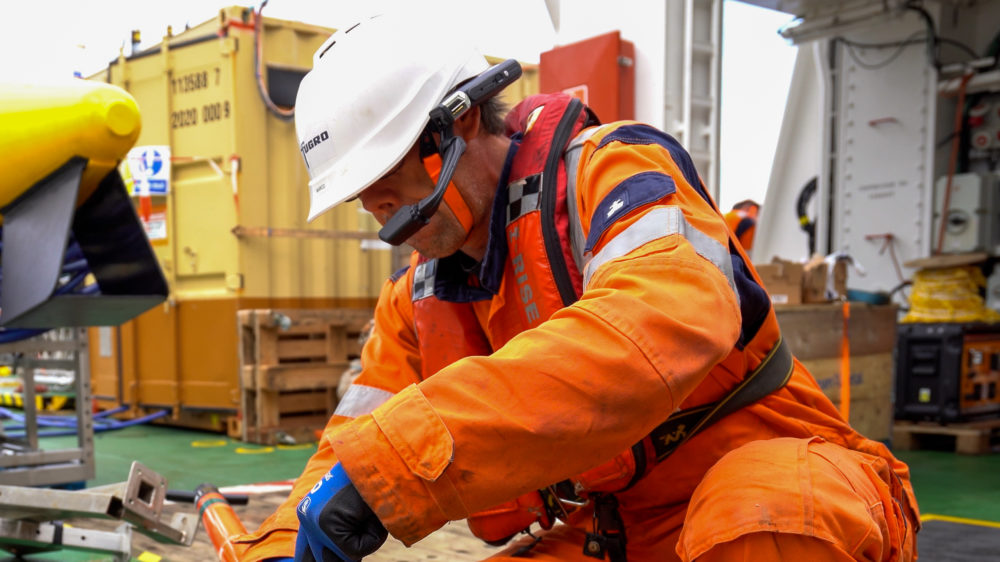 Since the deployment of the solution, Fugro has been able to reduce in-person site visits to potentially hazardous locations, allowing the company to optimize its resources, including decision-making efficiencies, by assessing situations onsite without having to travel. The HMT-1's Remote Expert functionality has also been a key tool for Fugro, enabling its workers to operate more quickly, with instant access to expertise and knowledge from colleagues around the world.
"Once again, the RealWear HMT-1 has passed the durability and rugged test in some of the most extreme environments in the world," said Sanjay Jhawar, President and Cofounder, RealWear. "Fugro is maintaining its innovation position by combining the HMT-1 with the power of Remote Expert, even during these challenging times. We appreciate the opportunity to empower and elevate these remote teams"
Tim Nijland, CMO at VR Expert also added: "Working with Fugro from vision to validation was a great experience and we couldn't have done it without the reliability of the RealWear HMT-1s. The team at VR Expert is extremely proud seeing the RealWear HMT-1s being used to great effect across the globe."
For more information on RealWear and its wearable augmented reality solutions, please visit the company's website.
Image / video credit: RealWear, Inc. / YouTube
Sam is the Founder and Managing Editor of Auganix. With a background in research and report writing, he has been covering XR industry news for the past seven years.