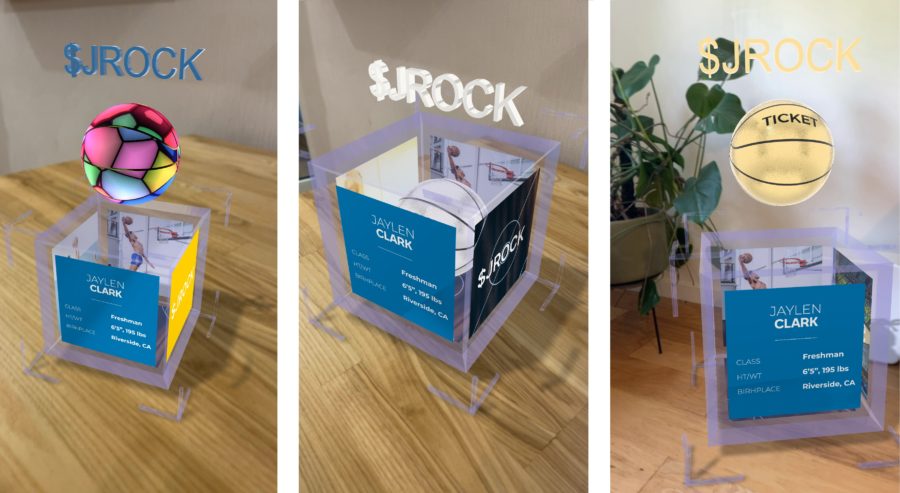 September 22, 2021 – Geenee Inc., an augmented reality (AR) technology company and provider of a WebAR creation platform, has recently announced that its AR technology is powering 10 new augmented reality NFT (non-fungible token) collectibles launched by UCLA Basketball player Jaylen Clark.
Fresh off the launch of his cryptocurrency $JROCK, Clark has recently dropped the 10 exclusive NFT collectibles that are tied to a series of real-world rewards for fans, including passes to UCLA games, game-worn shoes, UCLA branded Jordan shoes, and $JROCK coin via online platform Rally.
The AR NFTs will be powered by Geenee's technology, in partnership with NFT exchange Mintable. The collaboration with Clark marks the launch of a new offering from the two companies: Geenee's no-code drag & drop WebAR Builder makes it possible for anyone to publish AR to the web in a matter of minutes, and as of today, Geenee users can start monetizing their AR creations by minting them as NFTs for sale on the Mintable marketplace.
"Creative expression is being democratized by web-based augmented reality and NFTs, and is in-line with the democratization of athletes being paid for their likeness and monetization when before they couldn't," said Geenee CEO, Cory Grenier.
Zach Burks, Founder & CEO of Mintable, stated: "The emergence of NFTs have created another avenue for athletes to further engage their community and grow their brand. Industry frontrunners like Jaylen taking advantage of web-based AR tools and our NFT marketplace to create novel ways to engage their community is a great example of early adoption in this segment." Mintable has now also launched a College Athlete NFT initiative. 
Jaylen Clark's AR NFT collection was made available for sale on Mintable last week on September 17. Pricing for the collectibles starts at 0.05 ETH (approximately USD $145 at the time of writing) with some of the NFTs available for immediate purchase. The most exclusive piece of the collection will be put up for auction with a reserve price of 1 ETH (approximately USD $2,900 at the time of writing), and features a $JROCK-branded holographic basketball in AR. The NFT also comes with two tickets to a UCLA basketball game, 1,000 $JROCK coins, and an exclusive UCLA shoe.
The buyer of each piece in the collection will have ownership rights of the 3D digital asset, along with the capability to display and interact with it in augmented reality. Following a purchase, buyers can reach out directly to @geenee on Mintable to arrange for delivery of the accompanying physical goods. A complete listing of all 10 AR NFTs and links to purchase can be found here.
For more information on Geenee and its "WIX for WebAR" style offering, please visit the company's website.
Image credit: Mintable
Sam is the Founder and Managing Editor of Auganix. With a background in research and report writing, he has been covering XR industry news for the past seven years.