In Augmented Reality, Virtual Reality and Mixed Reality News
January 19, 2021 – Kopin Corporation, a developer and provider of high-performance microdisplays, has recently announced that its Lightning 2.6K x 2.6K (2560 x 2560 resolution) OLED (organic light emitting diode) display on chip (Doc) are incorporated in Panasonic's VR Glasses that were introduced at CES 2021 last week.
Kopin stated that the 2.6K x 2.6K OLED microdisplay on Si integrates many functional blocks including Mobile Industry Processor Interface (MIPI) serial interface, display stream compression (DSC) and memory. The company added that the 2.6K x 2.6K DoC is designed specifically for high-performance, compact virtual reality (VR), augmented reality (AR) and mixed reality (MR) headsets.
Panasonic's ultra-high-definition VR Glasses are high-dynamic-range (HDR) capable, and come in a smaller form-factor compared to other VR headsets currently on the market thanks to the device's 1.3" displays and slim 'Pancake' optics. According to Panasonic, the smaller form factor also helps to make the glasses more lightweight and therefore more comfortable to wear for extended periods of time. The glasses also feature integrated hi-fidelity audio that helps to provide a complete sensory experience – whether for use viewing sports, entertainment content or games. The VR Glasses also allow for IPD (interpupillary distance) adjustment and diopter adjustment so that they can be used without corrective lenses.
The 2.6K x 2.6K OLED DoC is made with Kopin's patented ColorMax technology for high color fidelity (> 100% sRGB) and a duo-stack OLED structure for high brightness (> 1000 nits). The 10-bit color control, together with the high color fidelity, high brightness and high contrast ratio (> 10,000: 1), enables the studio-quality, HDR capable VR experience, according to Kopin.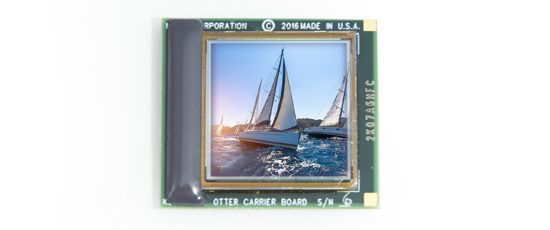 "We have worked very closely with Panasonic on the display and with 3M on the Pancake optics for the Panasonic VR glasses," said Dr. John C.C. Fan, President and CEO of Kopin. "We have had a very collaborative development program with each company contributing core elements of the technology and design – the ultimate Panasonic VR Glasses have both high-performance and a sleek, comfortable design. We look forward to seeing Panasonic delight their customers with these magnificent VR Glasses."
For more information on Kopin Corporation and its OLED microdisplay solutions for XR, please visit the company's website.
Image credit: Panasonic / Kopin Corporation
Sam is the Founder and Managing Editor of Auganix. With a background in research and report writing, he has been covering XR industry news for the past seven years.