June 23, 2021 – Manus, a provider of data gloves for motion capture (mocap) and virtual reality (VR), has recently announced the release of its latest 'Prime X Series' innovation. The new generation of gloves consists of the Prime X Marker Mocap gloves and the Prime X Haptic VR gloves. 
With the introduction of the company's next generation of products, Manus will continue to provide users with a solution for hand and finger data and interaction in a range of industry sectors.
Bart Loosman, CEO at Manus, commented: "We have listened to those in the industry who value accurate hand and finger data and broad compatibility with their desired workflow above all else. We take pride in offering our customers a solution that was developed to meet these needs with the Prime X Series."
Manus Prime X Marker Mocap
The Manus Prime X Marker Mocap gloves help to add accurate and detailed finger data to optical motion capture setups. According to Manus, the gloves are compatible with industry-standard optical motion tracking solutions and offer triggered recording functionality with Optitrack Motive and Vicon Shogun. The gloves also come with the Manus time sync cable, which allows them to seamlessly integrate into any workflow that includes SMPTE Timecode & Genlock, enabling users to sync mocap data throughout their entire pipeline.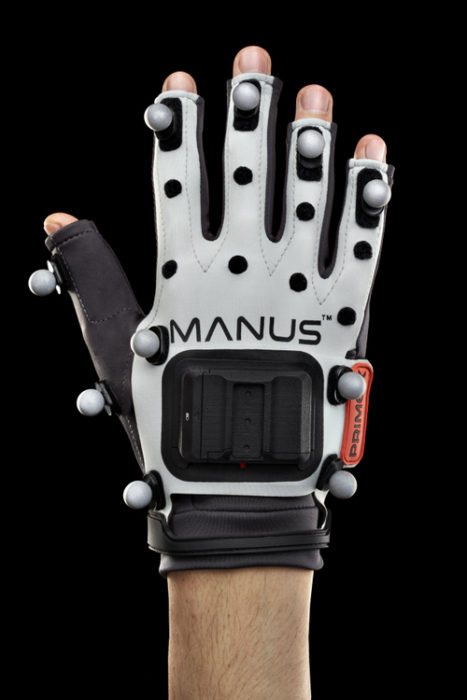 Manus Prime X Haptic VR 
The Manus Prime X Haptic VR gloves offer compatibility with VR visualization tools such as IC.IDO, plus compatibility with engines such as Unreal and Unity is ensured through the Manus suite of integrations and plugins. The gloves also provide haptic feedback through improved haptic modules to provide an immersive sense of touch with a higher feedback range, according to the company.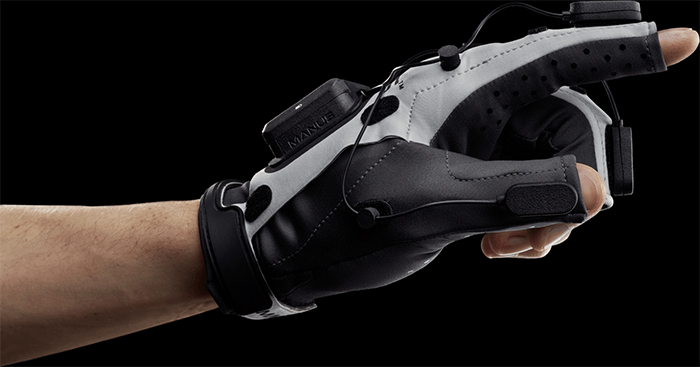 Manus Prime X Series overall features:
High Fidelity finger tracking – Detailed finger bend and spread measurement: Flex sensors measure 2 joints per finger; 9 DoF tracking of individual fingers by sensor fusion with IMU's; drift prevented with new auto-filters and flex sensor reference points.

Software Compatibility – The Manus Prime X Gloves work with industry-standard solutions for Motion Capture and VR. Custom integrations can be built through the Manus SDK.

Hardware Compatibility – The Universal Mounting System of the Prime X Series allows for a wide range of tracking attachments, making the Prime X Gloves compatible with most tracking systems. Prime X Haptic VR gloves are compatible with most HMD's.

Quick and Easy calibration – With only three simple gestures, the Prime X Gloves calibration is accurately tailored to a user's hands, allowing them to get started in less than a minute. The calibration profile is then stored on the glove, allowing them to be used in multiple sessions across devices.

Continuous use – Prime X gloves come with swappable batteries that provide up to 6-hours of battery life. The Manus Charging Station allows for the charging of additional batteries for uninterrupted workflows where users don't have to wait for the gloves to charge. 

Washable Gloves in two sizes – The electronics module can be quickly removed from the textile glove, allowing for the glove to be washed or replaced. Additional textile gloves are available in sizes S/M and M/L. The electronics module fits both sizes.
Prime X Series gloves are available for purchase now. The Manus Prime X gloves retail at EUR €3,990 (USD $4,990) and include a perpetual license for Manus Core (the company's data-handling software and central hub for all Manus products), product lifetime support, and regular software & feature updates. For more information on Manus and its mocap and haptic glove offerings, please visit the company's website.
Image credit: Manus
Sam is the Founder and Managing Editor of Auganix. With a background in research and report writing, he has been covering XR industry news for the past seven years.