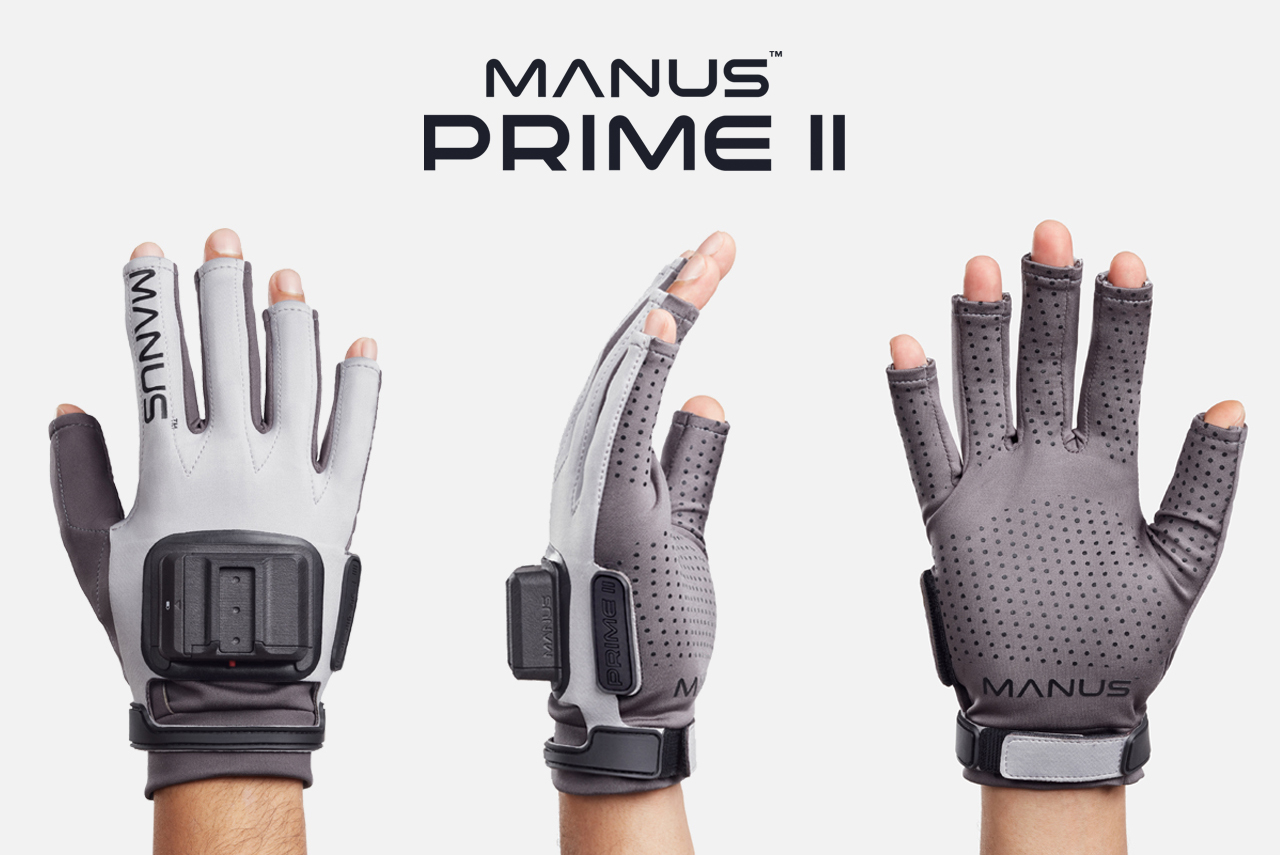 November 9, 2020 – Manus, an immersive technology developer specialised in high-fidelity finger tracking for motion capture and virtual reality (VR), has today announced that the starting price of its 'Prime II' gloves has been reduced to EUR €1,499. 
"We at Manus are super excited about our new pricing, making high-end finger tracking more accessible for creators and developers," said Bart Loosman, CEO at Manus. " "We felt that the market was waiting for someone to break the mold on expensive tracking hardware, and we felt that should be us." Manus has previously worked with General Motors, Volvo, Toyota, Electronic Arts, Facebook Reality Labs, ZDF Digital, The Mill, and WaveXR.
As well as the Prime II gloves, Manus also offers more powerful versions, such as the 'Prime II Haptic' and 'Prime II Xsens'. The Prime Xsens gloves were recently used in a John Legend virtual concert, in order to track performers with precision. The concert has since been seen by 753,350, according to the company. 
Customers can now buy the Manus Prime II for EUR €1,499, the Prime II Haptic for EUR €2,499, or the Prime II Xsens (with Manus Core) for EUR €3,990. The full breakdown is below: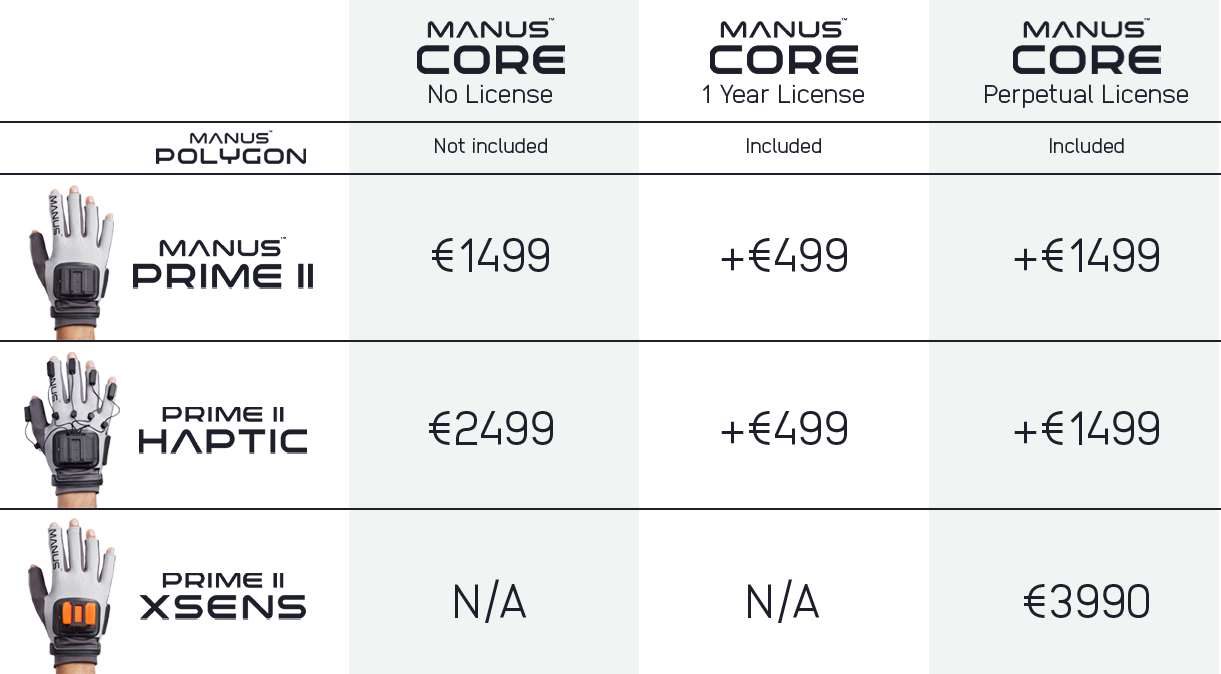 Manus also provides customers with its own 'Manus Core' data handling software that helps to improve immersive experiences. The software comes with four key features: glove data handling, Polygon IK-solver, FBX recorder, and multiple tracking system support.
Glove data handling: Manus Core is the entry point of the glove data. This data can be streamed directly into major tools such as Unreal Engine, Unity and Motionbuilder. Allowing developers to make use of high-fidelity finger tracking in the desired software, either for animating for motion capture or intuitively interacting with virtual objects in VR.
Polygon IK-solver: One of the products Manus released this year was Manus Polygon, an IK- (inverse kinematics) solver that generates natural full-body motion from 6 data points. The IK-system generates an accurately proportioned virtual human skeleton, and re-targets and synchronizes motion to a chosen avatar, offering a solution for motion capture as well as VR, without the need for a motion-capture suit. With the price structure change, Manus Polygon has become an included feature of Manus Core.
FBX Recorder: Another feature of Manus Core is the possibility to record glove data and Polygon data. This enables users to record movement inside of Manus Core and export it as a FBX file to implement in any 3D tools, according to the company. This feature allows the user to combine high-fidelity Manus finger tracking with any tracking system, such as OptiTrack or Vicon. FBX Recorder also offers the possibility to do quick full-body motion capture with Manus Polygon.
Multiple tracking system support: As mentioned above, one of the key features of Manus Core is the support for multiple tracking systems such as: OpenVR (SteamVR), OptiTrack, Antilatency, Vicon, and ART. This means that all Manus products have pre-arranged orientational support for all these tracking systems, together with hardware mounting support with the Prime II mounting system. This feature also applies to Polygon tracking data source, which means customers can use any of these trackers to build up data points for Polygon.
The company's Manus Core data-handling software and central hub for all Manus products is available for EUR €499 annually, or EUR €1,499 for a perpetual license.
For more information on Manus and its finger tracking and haptic solutions, please visit the company's website.
Image credit: Manus
Sam is the Founder and Managing Editor of Auganix. With a background in research and report writing, he has been covering XR industry news for the past seven years.