June 13, 2022 – Meta has today announced that its social virtual reality (VR) platform Horizon Worlds will begin rolling in the UK this week on Quest 2 for people 18 years of age or older. Horizon Worlds offers a social VR experience that allows users to create and explore together.
Meta stated that since launching Horizon Worlds, it has envisioned the platform as being a creator-friendly VR environment that features "top tier" social world-building tools. The company has worked to listen to its creator community in order to incorporate feedback to further develop those tools, and added that it is always working to make the platform and its tools even better. Just last month Meta launched its first asset library, a collection of pre-made items that creators can use any time.
In addition to rolling out the platform in the UK, meta also announced today a new setting that it is calling "Voice Mode" that will give users more control over their Horizon Worlds experience. When the Voice Mode feature begins rolling out in the next few weeks, it will allow users to choose how they hear people who aren't on their friends list, including the option to not hear unwanted conversations at all. By default, users will hear all nearby users at the same volume, but with Voice Mode, users can easily switch to "Garbled Voices", in which non-friends' voices come across as unintelligible, friendly sounds.
If users do choose to enable Garbled Voices, strangers will see an indicator to show this. However, if at any point users do want to hear what strangers are saying, they can simply raise one hand with the controller to their ear to temporarily un-garble strangers' voices, without having to add them as a friend.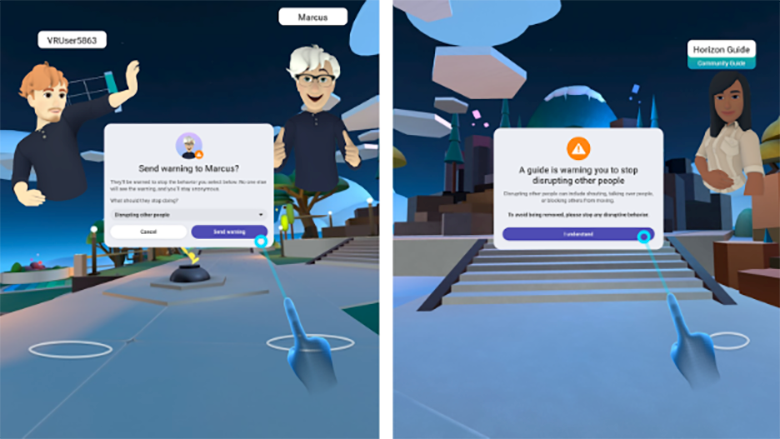 The Voice Mode feature is yet another tool in Meta's arsenal to try to combat disruptive and inappropriate behavior on the Horizon Worlds platform. Earlier this year the company launched a "Personal Boundary" feature that allowed users to set a roughly 4-foot distance between their avatar and others, so as to reduce invasions of personal space. In addition to this, Horizon Worlds Community Guides now also have a tool that allows them to send educational warnings as a pop-up to users who are behaving disruptively.
Users have several options on the platform if they are being bothered by someone else. From the wrist menu, users can tap the shield icon and pull up Safe Zone, which allows them to take a break from their surroundings and block, mute, or report anyone engaging in unwanted behavior. For more information on what is and is not allowed on the Horizon Worlds platform, you can view Meta's Conduct in VR Policy and Horizon Worlds Prohibited Content Policy.
With today's launch, Horizon Worlds is now available for people 18+ to download for free on Quest 2 in the US, Canada, and the UK. The company also reiterated that it still plans to roll out Horizon Worlds to more countries in Europe later this summer.
Image credit: Meta
Sam is the Founder and Managing Editor of Auganix. With a background in research and report writing, he has been covering XR industry news for the past seven years.