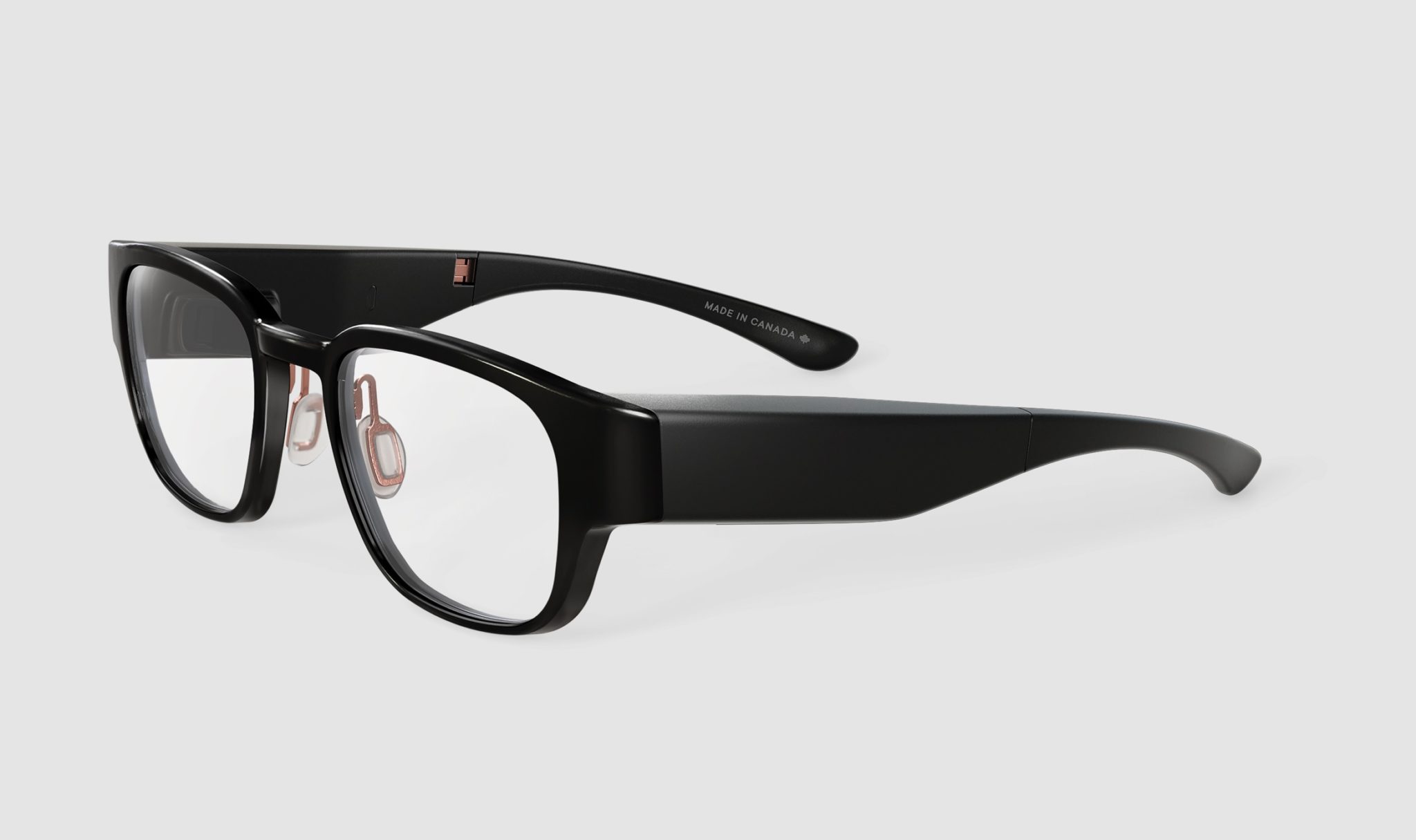 November 6, 2019 – North, the company that makes the Focals smart glasses, has today announced its 1.119 update that allows Focals wearers to view Twitter threads on the smart glasses. Users will now be able to like, retweet, and reply from their Focals whenever they receive a mention on Twitter from Focals.
To enable, users have to activate the Twitter 'Ability' (effectively mini-apps that can be selected to work and display on the smart glasses) from within the Focals app. After signing in, any time a user's Twitter account receives a mention, a notification will appear on the Focals that users can select in order to choose whether they want to Like, Retweet, or Reply to the mention. Focals also allow for smart replies (auto-generated replies based on the content of the previous message) to be sent, as well for the composing of voice-to-text responses.
North has noted that if notifications for Twitter are enabled for a smartphone, duplicate notifications may appear on Focals after activating the Twitter Ability in the Focals app. This is because Focals display users' phone notifications, which will effectively double up with the bespoke Twitter Ability notifications if activated. To remedy this, users should disable Twitter notifications within the Focals app.
Fixes
North has also implemented several fixes with 1.119 in order to help with connection issues:
A new message will display to indicate when Focals have lost connection with a smartphone, as it wasn't always clear that connection had been lost previously;
Less retries required to get paired and connected to Focals in the app;
Alexa integration will produce successful results more often. If still unsuccessful, failed requests are now better communicated;
Voice to text replies won't require multiple tries to send;
If an internet connection is lost, this is now more clearly displayed on Focals;
Bugs that caused Music ID and music detection to fail frequently have been fixed.
Improvements
North has also made improvements to Focals features:
Overall improvements to Bluetooth and disconnection frequency;
Users can now start walking directions or order an Uber from Focals based on calendar events with locations or addresses attached;
More variety with smart replies, thanks to an update to North's reply model. There are now less duplicates and more responses with full sentences;
Focals have been updated to the latest emoji pack, allowing some new faces for emoji replies.
Some previous features are now also being removed from Focals:
North is saying goodbye to Wonderland, one of the first demo experiences for Focals that allowed users to share what they would see on Focals. Instead, users can now use Showcase. Showcase streamlines how Focals can be shared with others, making it easy to select different features on Focals to show off and interact with.
After looking through user feedback, North has stated that it is also bidding farewell to Rewind. Rewind let users record audio snippets for meetings, and then transcribed these snippets into notes that could be accessed after. At times, Rewind wouldn't work in all settings and transcriptions weren't always accurate. The feature is being removed for now, but North has stated that it will continue to find ways to make Rewind or a similar feature better.
Focals featured a 'Daily Tasks' Ability from the Calendar view. Since then, the company has worked on bringing Google Tasks and Todoist to Focals, and moved Tasks to their own view separate from the Calendar. North states that it has found it easier to sync to-do's across these task apps instead of needing to duplicate them with another Daily Tasks feature. As a result, the company is removing tasks from the Calendar view.
We have been using our own North Focals for just under a month now. All of the above mentioned changes sound like they will definitely help to enhance what has already been an excellent user experience. There have been a few instances where we have encountered bugs. One item that we weren't even aware of was the Rewind ability – which made itself known in the middle of a meeting. So, through fear of having our Focals announce that they had been quietly recording everyone else in the room, the notification was dismissed. However, Rewind (or a similar feature) has not been completely abolished forever, so we may see an improved similar feature make a return appearance in the future.
Stay tuned for our full write-up on using Focals, which is coming soon.
Image credit: North
Sam is the Founder and Managing Editor of Auganix. With a background in research and report writing, he has been covering XR industry news for the past seven years.