September 28, 2022 – Nreal, a provider of augmented reality (AR) glasses for consumers, has this week announced the launch and retail availability of its Nreal Air AR glasses in the US for USD $379 on Amazon, along with the availability of the Nreal Adapter (an iPhone-compatible dongle) for USD $59. Nreal has also unveiled a complete redesign of its Nebula AR operating system and Nebula for Mac.
Compared to the company's initial Nreal Light offering, which first hit the market for developers in August 2020, the Nreal Air glasses embrace more consumer-friendly optimizations and are designed for entertainment consumption, including gaming, web browsing, and media viewing.

Updates to Nreal Air compared to Nreal Light include an improved light engine, a 25% reduction in weight, a 50% reduction in power consumption, all at a 40% lower price point than the Nreal Light device, which retails at USD $599. Nreal Air also features a 46° field of view (FoV) and three degrees of freedom (3DOF) tracking functionality, compared with the Nreal Light's 52° FoV and 6DOF tracking. Nreal stated that these features help to demonstrate the company's commitment to encouraging the adoption of advanced AR technologies among a wider audience base.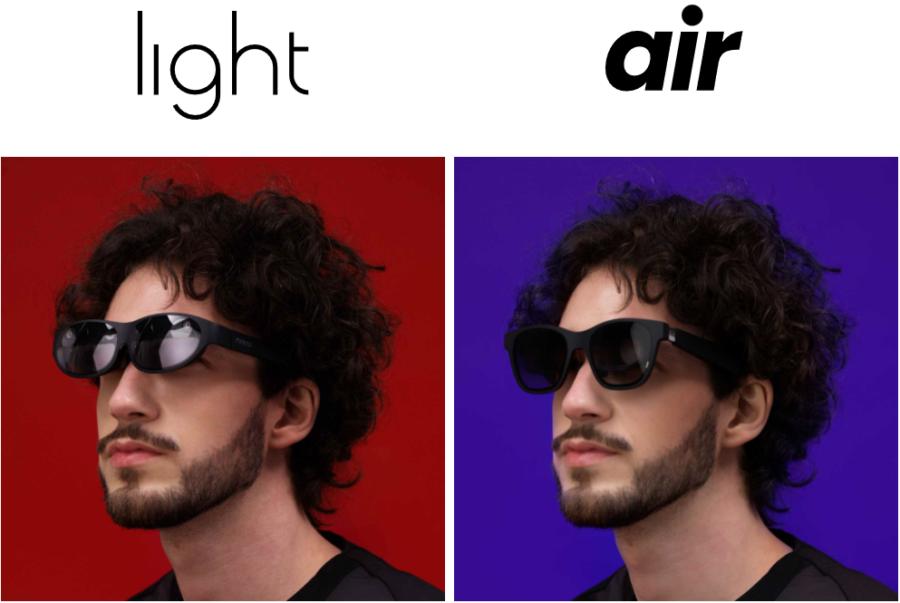 Nreal iOS and MacOS compatibility
In order to bring mobile theater experiences to iOS users, Nreal has introduced its Nreal Adapter, which connects to any iPhone via an HDMI-to-Lightning dongle. Nreal's AR operating system, Nebula, runs on Android-based devices. As a result the Nreal Air experience on iOS devices will initially only offer screen mirroring on the Nreal Air's 130″ AR screen.
Nreal is introducing a Mac version of Nebula for all MacBook Pros and MacBook Airs powered by Apple chips though. Once plugged in, a virtual UI called AR Desktop will launch and project multiple virtual displays mid-air, turning a single notebook into a multi-window workstation, according to the company.
Nebula AR operating system update
Nreal has also announced its biggest update for its Nebula AR operating system to-date, starting with a completely redesigned AR Space. The new interface sports a borderless curved wall design and a highly interactive menu with animated 3D icons. Additionally, a new widget feature pushes recommended content to users, and also allows them to preview or even access applications directly from the AR Space interface, without the extra step of opening the application.
Nreal's own browser, Spatial Browser, has also undergone a complete makeover, and now offers the option between two display modes: horizontal mode for multi-window browsing and vertical mode for sites with waterfall designs (such as Pinterest or online comic books).
New app releases for Nreal
In conjunction with the launch, Nreal has unveiled several new casual games, and two applications from XRay Studio that showcase AR-exclusive experiences.
Teleport, the first of XRay Studio's applications, combines the virtual and real worlds. Users can jump through 3D models of real world structures scanned by their smartphones. Once inside these digitized structures, users can leave photos, text, and voice messages and interact with other users in the same virtual space. The app will be made available to global users later this year.
"Teleport represents our focus on including as many people as we can in creating interesting content that can be enjoyed both on mobile phones and AR glasses. There is something very special about placing people in a digital replica of a real-life environment where they can freely move around as they would in real life. That sense of familiarity exhibits the beauty of AR," said Peng Jin, co-founder of Nreal.
Finally, Nebula's 'Mirror Mode' will allow gamers to enjoy gaming experiences on Nreal Air. With the aforementioned 130″ screen, both mobile and console gamers (including Steam Deck, Nintendo Switch, Xbox, or PlayStation platforms) can enjoy an immersive gaming experience using Nreal Air, according to Nreal. The company noted that in AR mode, Nreal Air's screen can actually be enlarged to 200″ and anchored in space, making it an ideal portable gaming setup for cloud gaming services like Xbox Cloud.
Nreal Air will be available in the US starting September 27 for purchase on Amazon for USD $379, with the Nreal Adapter available for pre-order for USD $59.
For more information on Nreal and its Nreal Air augmented reality glasses, please visit the company's website.
Image credit: Nreal
Sam is the Founder and Managing Editor of Auganix. With a background in research and report writing, he has been covering XR industry news for the past seven years.