May 21, 2020 – Oculus has today announced that its 'Oculus for Business' enterprise virtual reality platform is officially out of closed beta and generally available. The company first announced its all-in-one enterprise platform last year, with an aim of supporting companies deploying VR in the workplace.
Oculus for Business is designed to support both new and existing workflows with the use of the Oculus Quest HMD, along with enterprise-ready software and cloud-based management tools designed to grow alongside the needs of businesses. Program admins are aided by the Device Setup app which provisions large numbers of headsets simultaneously, and the Device Manager acts as a control center for headsets, so administrators can update settings and deploy apps remotely to multiple locations.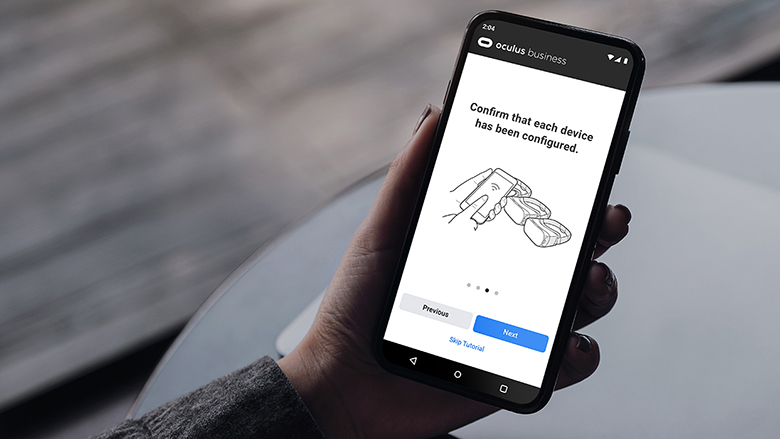 The Oculus for Business platform is built on Workplace, Facebook's enterprise collaboration platform. Workplace delivers security through ID and account management, and the company states that enhancements and new features catering to VR workflows are underway. Oculus for Business customers will be among the first to experience them as they become available.
Oculus states that it has also focused on making Oculus for Business work with existing IT set ups, and the platform already supports leading mobile device management software, such as MobileIron and VMware Workspace ONE.
Finally, the enterprise approach also extends to the in-headset experience for employees and users. The user interface places approved content front-and-center, and a new app launcher sends employees directly to the apps and experiences that apply to the task at hand.
Oculus has also introduced the Independent Software Vendor (ISV) program to allow for greater flexibility and collaboration between companies and solutions providers and developers. The company states that it has 400 ISV solution providers working on custom enterprise solutions for clients.
Companies like InsiteVR, a developer of VR meeting software for architecture, engineering, and construction (AEC) project teams, have used Oculus Quest to help clients connect and collaborate across distance. "Since using Oculus Quest, we've seen a surge in interest from clients looking to use VR to help connect their teams working remotely," said Angel Say, CEO & Co-Founder of InsiteVR. "Quest now accounts for over 50% of our usage and is the only device we consistently see teams using."
InsiteVR has worked with global design and delivery firm Stantec. Chuck Lounsberry, Principal & Visual Design Leader at Stantec, commented: "Designers can move through designs at a personal scale, providing a more immersive experience that helps them identify errors, appraise design decisions, and predict design change impacts."
"We have a rich history with Oculus," added Rael Romero, Visualization Technology Manager at Stantec. "We've used every headset, from DK1 to the Oculus Quest, to help us better support our clients with fresh ideas and personal collaboration. VR is an essential tool that opens all sorts of possibilities."
Other companies, such as The Leadership Network, are using the platform to introduce VR into the workforce. Nathan Robinson, the company's CEO, said: "We're helping our Global Fortune 2000 clients solve complex training challenges, like the roll-out of compelling and cost-effective training at scale". He added, "In the last month alone, customer bookings for immersive training experiences have gone up by 150%."
For more information on pricing and how businesses can get involved, click here.
Image credit: Oculus
Sam is the Founder and Managing Editor of Auganix. With a background in research and report writing, he has been covering XR industry news for the past seven years.