February 15, 2021 – Jokey, a global packaging solutions company, has today unveiled an augmented reality (AR) sales tool that aims to innovate the way the company introduces its portfolio to prospective clients. Jokey worked with Zappar, an AR platform and creative studio provider for mobile and web apps, to build the AR packaging solution.
Jokey stated that it wanted to demonstrate its digital offering and services to its clients, which consist of food and non-food manufacturers. The company added that it wanted to showcase its capabilities in an immersive and engaging way, as a tool that can be brought into new business meetings to show how it can help. As a result, Jokey opted for a WebAR experience that helps to educate its customers on the potential of interactive packaging.
The project was delivered in 2 phases. The first version comes in the form of a small bucket (similar in size to an ice cream tub) that is sent to prospective customers, ahead of a meeting. During the call or a web stream, the customer scans the bucket and is guided through the value proposition of Jokey's services. 
In the AR experience users can learn about:
Jokey Individual – enables customers to use 3D AR technology to place a virtual bucket on their desk and construct their own 3D bucket from a range of design and structure variables;

Jokey Design Service – introduces Jokey's personal design consultation service;

Jokey Eco Concept 2.0 – expands on Jokey's sustainability services.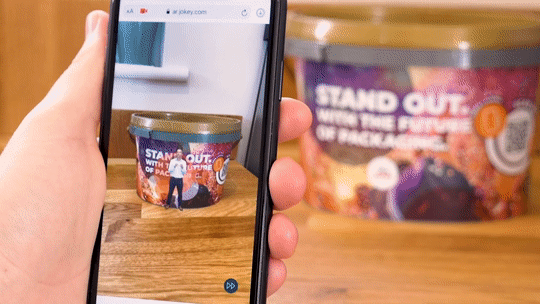 The company added that future versions will include the development of a virtual bucket that can be shared online without the need for the physical one to be sent. 
Martin Stahel, Sales Director at Zappar, commented: "It's been an exciting journey working with the Jokey team to bring their AR vision to life. Supported by Zappar's creative and consultancy studio, Jokey now has an innovative sales tool which evolves a standard product sample into an immersive experience. The experience educates customers about the Jokey service offering as well as opens their minds to the possibilities of connected packaging."
Timo Domian, Project Manager of Digitization at Jokey, commented: "With our smartphones, the world is becoming more connected, communicative and, through various channels, interactive. Packaging could offer so much for all consumers during its life cycle, much more than traditional physical packaging today. To prepare for the future, connected packaging is the way to go." 
The technology that underpins Jokey's project is ZapWorks, a complete AR toolkit for developers, brands and businesses offered by Zappar. According to Zappar, by using its portfolio of technologies as part of a connected packaging offering, businesses can achieve a range of goals like brand provenance, tutorials, links to mCommerce stores, and promoting additional services. Other clients that use ZapWorks include Nestle, Disney, and Solucan.
Jokey will begin rolling out its experience to prospective customers from today. To learn more about Jokey's interactive AR Connected Packaging solutions, please visit the company's website.
Image credit: Jokey
Sam is the Founder and Managing Editor of Auganix. With a background in research and report writing, he has been covering XR industry news for the past seven years.