February 12, 2021 – Starting today, public spaces across the city of Vancouver, Canada will be transformed into an interactive, open-air gallery featuring augmented reality (AR) art by local and international artists. The experience, which is part of the Vancouver Mural Festival (VMF) Winter Arts, will allow people in the city to explore Vancouver like never before as the lines between the virtual and real world are blurred in a creative new way.
In a year marked by social distancing, VMF reimagined new opportunities to safely connect art and people in public space. In spring 2020, VMF brightened streets and inspired hope with #MakeArtWhileApart murals on boarded-up storefronts. In summer 2020, it reimagined and expanded the annual Vancouver Mural Festival to 9 neighbourhoods to support more communities.
Now for winter 2021, VMF has partnered with the Downtown Vancouver BIA to present VMF Winter Arts. Combining the spirit of the annual Vancouver Mural Festival with innovative digital technology, VMF Winter Arts creates an open-air experience featuring 20+ augmented reality artworks across Vancouver's core.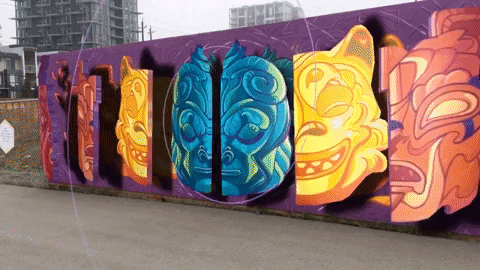 VMF states that diversity and inclusivity is at the core of its values and Winter Arts features international artists from Vienna, Tokyo, Ho Chi Minh, Dallas and 10 local artists from Vancouver as well as Musqueam, Squamish and Tsleil Waututh First Nations. BIPOC artists and curators make up over 50% of the 2021 roster. 
With the help of VMF's Mobile App (available to download for free from the App Store and Google Play), Vancouverites can safely explore the city and find all AR locations while following COVID protocol. Alternatively, downloadable maps can be found on the VMF website. 
"More than ever, we've seen the positive impact that public art and public space brings to communities. This has driven us to harness technology in a way which demonstrates the transformative power of art in our cities. Until we can reconvene, we will continue creating live experiences in public. We really hope this experiment brings joy and inspiration to everyone downtown and beyond," said Andrea Curtis, interim VMF Executive Director. 
To accompany the augmented reality experience on the streets, VMF has partnered with the Vancouver Public Library to host a series of free online public workshops and discussions to highlight participating artists, and offer opportunities for dialogue and connection around the artwork.
VMF Winter Arts runs from February 12-28, 2021. For more information on the artists involved and their digital augmented reality artwork, please click here.
Image credit: Vancouver Mural Festival
Sam is the Founder and Managing Editor of Auganix. With a background in research and report writing, he has been covering XR industry news for the past seven years.