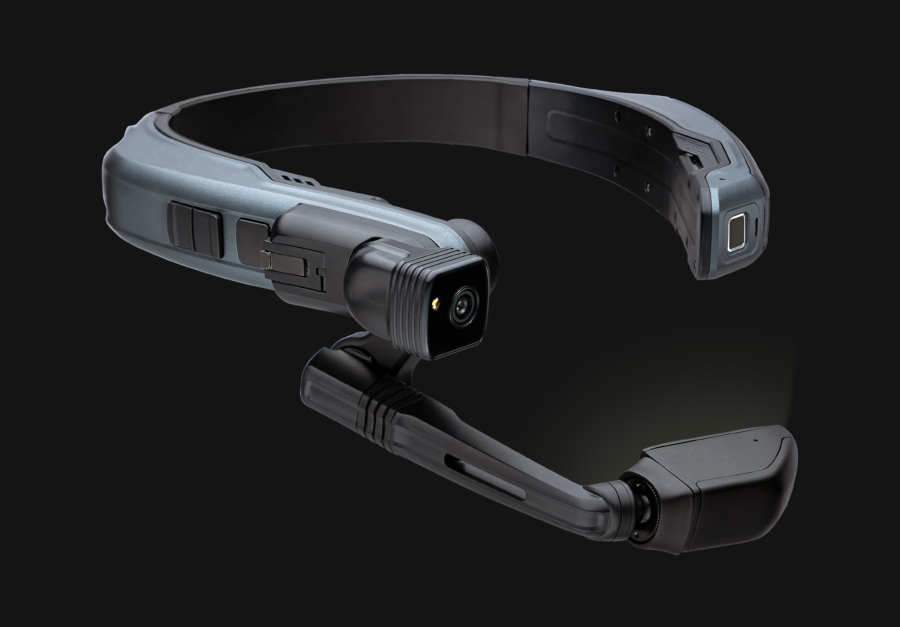 December 8, 2021 – RealWear, a provider of assisted reality solutions for frontline industrial workers, has today unveiled 'RealWear Navigator 500', the next generation of the company's industrial-strength wearables.
Building on the global success of its flagship RealWear HMT-1 head-mounted display, RealWear stated that its RealWear Navigator 500 product line represents a new family of assisted reality devices for the company, with a new modular platform, improved user experience, and comfortable ergonomics that empower frontline workers to perform work tasks while keeping their hands and fields of view free to more safely perform tasks for longer amounts of time.
Fully optimised for hands-free use, the RealWear Navigator 500 platform combines hardware, software, and cloud-ready services with a rugged design that is one-third lighter and slimmer than the previous generation, making it easier for frontline workers to wear the device for their entire shift. The hardware is designed as a modular platform with an upgradeable 48 megapixel (MP) camera system, a hot-swappable battery, WiFi compatibility and an optional 4G (and soon-to-be-available 5G) modem. 
The device also features a voice-controlled user interface that includes noise-cancelling technology designed for high-noise environments. RealWear also has more than 200 optimised partner apps supporting a variety of use cases, such as remote collaboration, guided workflow and IoT and AI data visualisation.
Assisted reality offers a non-immersive experience and has become one of the preferred extended reality (XR) solutions for frontline industrial workers, especially where high situational awareness is necessary. Assisted reality experiences are closer to the physical world, compared to virtual reality (VR) and augmented reality (AR) experiences that immerse workers in the metaverse. 
"Today we're unveiling something far bigger than a product, the RealWear Navigator 500 delivers the next generation of work with a 'reality-first, digital-second' enterprise solution for remote collaboration, operational efficiency, and hybrid work in safety-critical industries," said Andrew Chrostowski, Chairman and CEO of RealWear. "Assisted reality – more so than augmented or virtual reality – is designed specifically for the frontline worker who requires both hands for the job, striking the perfect balance of keeping workers 100% present and self-aware with the ability to safely navigate industrial surroundings. Afterall, nobody wants to be near hazardous equipment with their head stuck into the metaverse."  
Some of the RealWear Navigator 500's new features and capabilities include:
A patented, modular platform that enables customers to swap out specific modules such as the camera, modem, battery, and others in the future;

A hot-swappable, full-shift battery that enables workers to complete longer tasks over multiple hours without losing any work;

A camera system complete with a 48 MP sensor that has the ability to capture high quality photos in extremely low-light, auto-focus, video stabilisation, and an enhanced zoom in telephoto mode that allows workers to capture greater than 4X zoom while still maintaining full-HD (1080p) quality;

Adjustable display;

A light form factor that can withstand a two-meter drop-test without compromising the RealWear HMT-1's IP66 ruggedness rating;   

Secure device sign-on options and centralised enterprise deployment and management capabilities; and  

Noise-cancelling technology with local voice recognition in environments up to 100 decibels (dBA). 
At the onset of the pandemic, RealWear and Microsoft announced the integration of Teams on RealWear's HMT-1 devices. From October 2020 to October 2021, Teams on RealWear adoption grew by 251%, according to the company. With RealWear Navigator 500, the company anticipates that adoption of Teams will be significantly accelerated thanks to the device's enhanced features, allowing for a more seamless way of collaborating remotely.  
"Microsoft Teams for frontline workers has grown tremendously thanks to partners like RealWear, and we expect RealWear Navigator 500 to take our success to new levels to accelerate hybrid work," said Kristina Behr, Vice President of Product, Microsoft 365 Frontline Worker and Industry. "With RealWear Navigator 500, RealWear allows industrial frontline workers using Teams to quickly collaborate with remote experts to safely solve complex issues while keeping their hands free and maintaining full situational awareness."
RealWear stated that its worldwide distribution, support, and reseller ecosystem will service and support the RealWear Navigator 500 solution with rapid response support, a global experience centre in Dubai, and offices in major industrial markets worldwide. Customers can access RealWear offerings through the company's growing ecosystem of resellers and partners, including Microsoft, Autodesk and Lenovo. 
Customers can order RealWear Navigator 500 today, with shipments of the solution expected before the end of the year.
For more information on RealWear and its assisted reality solutions for frontline workers, please visit the company's website.
Image credit: RealWear
Sam is the Founder and Managing Editor of Auganix. With a background in research and report writing, he has been covering XR industry news for the past seven years.