In Augmented Reality and Virtual Reality News
June 17, 2022 – Transfr VR (Transfr), a provider of on-the-job training programs that utilize augmented and virtual reality (AR/VR), has this week announced USD $35 million in Series B funding as it expands into regions and industries most heavily impacted by skills gaps and unemployment.
The round was led by Lumos Capital Group, with participation from existing investors Firework Ventures and Album VC and new investor Spring Tide Capital. Lumos Capital Group's co-founder and Managing Partner Victor Hu will join Transfr's board of directors.
"At a time when the jobs we do and the way we do them are changing dramatically, virtual and augmented reality holds enormous potential as a technology for career exploration, talent development and recruitment," said Victor Hu. "The Transfr team is creating an entirely new approach to the acquisition of skills that can help workers gain invaluable on-the-job experience—and create pathways to social and economic mobility in underserved communities. This is a unique triple bottom line model that benefits companies and workers—while contributing to the economic well-being of communities—and is perfectly aligned with our mission as an investment firm."
Transfr's simulations enable learners to feel as though they are embedded in the physical environment and experience of an actual worksite. Transfr's approach enables trainees to perform hands-on training with the assistance of a pre-programmed digital coach, all in a fully immersive, 360-degree environment that is distraction free and completely safe.
"Employers are looking for undiscovered talent—but high potential workers often are unaware of the on-ramp to in-demand and high-paying careers," said Bharani Rajakumar, founder and CEO of Transfr. "VR allows us to deliver on-the-job training at a massive scale to meet the economic development needs of states, communities and employers. Together, we are creating pathways from classroom to career that can help workers and learners access new skills—and better jobs."
Since its inception in 2017, Transfr has pioneered the use of virtual and augmented reality simulations for training in some of the country's fastest growing jobs and industries—including automotive, aerospace, advanced manufacturing, healthcare and construction. In five years, the company has grown from serving customers in a single state to working with non-profit, public sector, and enterprise partners in 36 states and the District of Columbia. According to the company, more than 10,000 incumbent workers, job-seekers, and students have already accessed Transfr's VR simulations, which simulate the on-the-job training and experience needed for individuals to prepare for new career opportunities.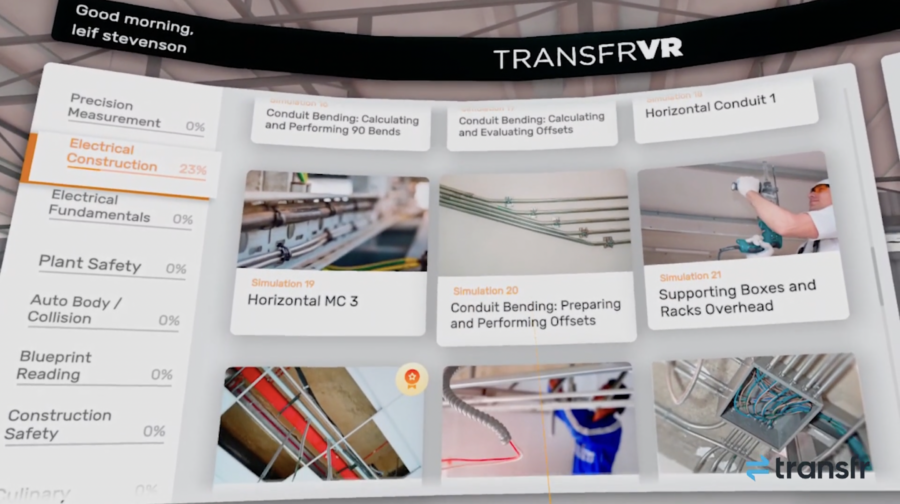 Transfr stated that nearly 300 organizations are now using its simulations as a platform for skills training and career exploration and that the company's suite of immersive learning technology and assessment tools are already used by local workforce agencies, schools, colleges, and employers across the US, ranging from community and technical colleges to large enterprise employers like Mazda Toyota Manufacturing.
"To meet the complex recruiting needs of our region's employers and grow our economic development base, we needed a way to make hands-on skills training and career search more relevant, accessible, and engaging to workers transitioning to new industries," said Cody Waits, Director of the Office of Skills Development at the Arkansas Department of Commerce. "As a tool for career and technical education, the statewide adoption of virtual reality is helping to break down barriers to career exploration, training, and entry—while helping employers in our state find undiscovered talent."
For more information on Transfr and its augmented and virtual reality training simulations, please visit the company's website.
Image / video credit: Transfr / Vimeo
Sam is the Founder and Managing Editor of Auganix. With a background in research and report writing, he has been covering XR industry news for the past seven years.