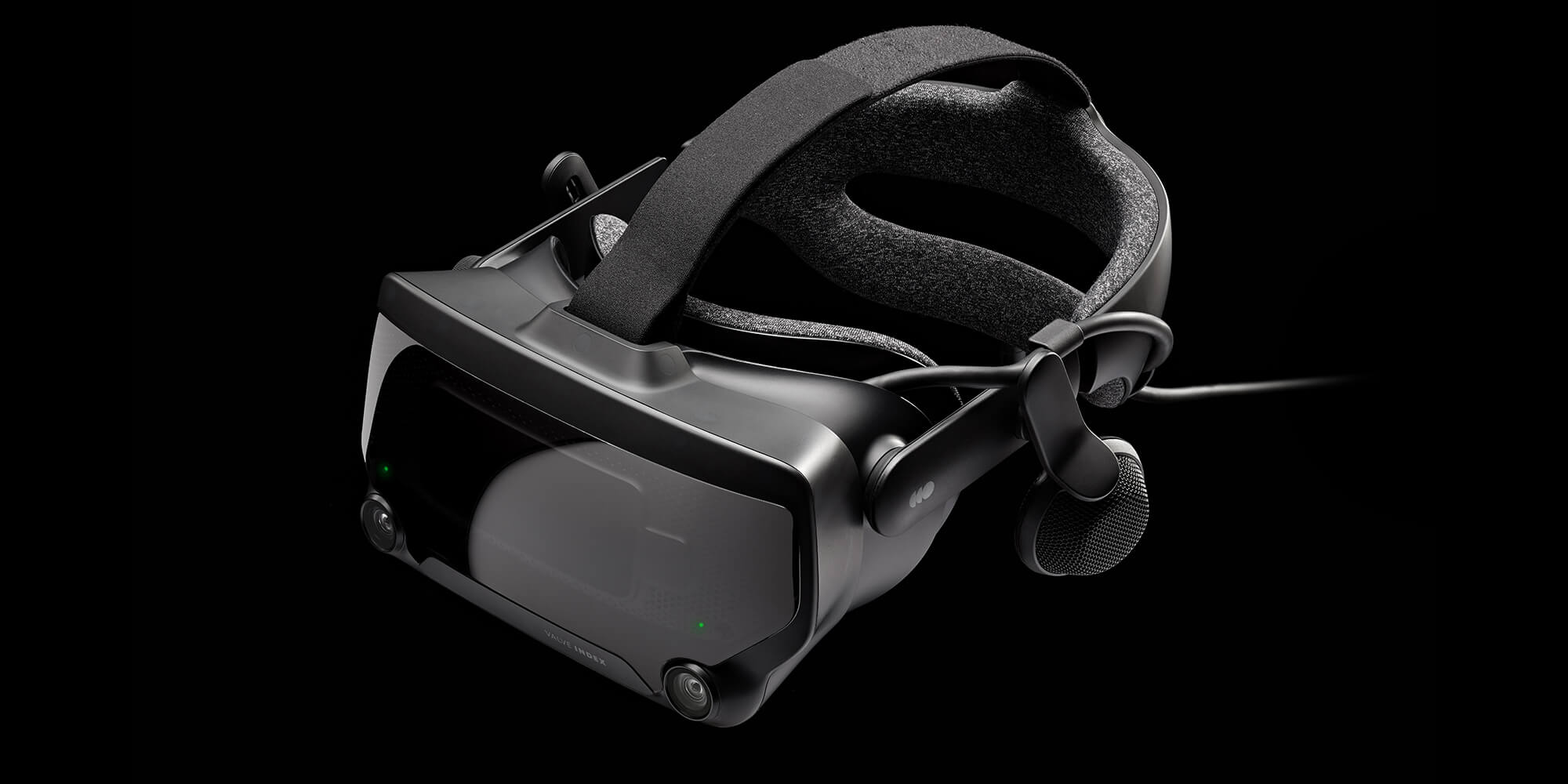 May 1, 2019 – Following the release of teaser information for Valve's new VR headset in March, Valve yesterday updated its website to list the specifications for its new Valve Index virtual reality headset. Known for its highly successful computer games, and for its hardware agnostic software and games marketplace platform, Steam, Valve has now elaborated further on what can be expected from its new VR offering.
With a price tag of USD $999, the Index is by no means the cheapest headset on the market. However, this amount is for a full VR package that comes complete with controllers and two base stations. Valve is also offering buyers the option to instead buy only the parts of the setup they need. This means that if users already own controllers from the HTC Vive or Vive Pro, then they can instead buy just the Index headset on its own for USD $499.
Valve states that the headset's dual 1440 x 1600 RGB LCDs provide 50% more subpixels than OLED, which results in greater sharpness for the same rendering cost. The company adds that additionally, the fill-factor is three times better than OLED, greatly reducing "screen door" effect.
The Specifications
Display
The Valve Index Headset runs at 120Hz with full back-compatibility to 90Hz, as well as an experimental 144Hz mode. These higher framerates are to help improve realism and optical comfort, which allows for longer and more comfortable play sessions.
Valve Index displays have a reduced illumination period of 0.330ms to 0.530ms (framerate dependent), which the company states is a 5x improvement over first-generation PC VR HMDs.
For Field of View (FOV) the best way to improve it is to position the optics as close as possible to a user's eyes. On the Index, physically adjustable inter-pupillary distance (IPD – distance between eyes) and eye relief (distance from lens to eye) lets users optimize the FOV. With these features, as well as the dual-element lens and canted optics, the Index provides 20° more FOV than the HTC Vive for typical users, according to Valve. The Index also includes custom dual-element lenses, and a canted display that slants outwards by 5 degrees, to help further maximize FOV.
Audio
For audio, Index Speakers do not touch the wearer's ears. Instead, Valve has implemented this earspeaker design to create a feeling of an externalized audio source, where sounds appear to come from the environment around the wearer, rather than from inside their head. This lack of physical contact also means lower temperatures whilst wearing the headset, and likely an improvement in comfort.
Each speaker's position is also adjustable and can be moved to suit different users. The composite honeycomb-panel speaker drivers in the Valve Index provide their full-frequency range across a nearly 180-degree dispersion pattern.
Ergonomics
The Index is fully adjustable to suit head size, face angle, and different ear positions, plus the visual experience can be fine-tuned with IPD and eye relief adjustments.
The soft surfaces of the headset that contact a user's head and face are made with woven antimicrobial fabric, which is soft and easy to clean, and the headset's ergonomically designed padding will evenly distribute pressure, according to the company.
The face gasket for the headset is also replaceable with a magnetic interface for easy cleaning and swapping. Valve states that they will encourage after-market mods and solutions, and will be providing the specifications for these quick-swap face pads in the near future.
Cameras
The Valve Index HMD includes Stereo 960 x 960 pixel, global-shutter RGB (Bayer) cameras made for computer vision, enabling applications like high-quality stereo pass-through.
Front expansion slot
Referred to by the company as the 'Frunk', the front compartment includes a USB 3 Type-A port – which Valve states has been "specifically made for tinkerers and makers". Further specifications and details are again, something that the company will be providing at a future date.
Compatibility
Finally, there is Steam – Valve has stated that any content that users have bought on Steam for their HTC Vive, HTC Vive Pro, Oculus Rift, or Windows Mixed Reality headsets will work with the Valve Index – and vice versa.
Availability
Valve Index VR headsets will ship June 28, 2019 to buyers in the USA and the UK, with further availability in Europe down as "coming soon". No availability in Canada at the time of posting.

Full Technical Specification summary:
Displays
Dual 1440 x 1600 LCDs, full RGB per pixel, ultra-low persistence global backlight illumination (0.330ms at 144Hz)
Framerate
80/90/120/144Hz
Optics
Double element, canted lens design
Field of View (FOV)
Optimized eye relief adjustment allows a typical user experience 20º more than the HTC Vive
Inter-pupillary Distance (IPD)
58mm – 70mm range physical adjustment
Ergonomic Adjustments
Head size, eye relief (FOV), IPD, speaker positions. Rear cradle adapter included.
Connections
5m tether, 1m breakaway trident connector. USB 3.0, DisplayPort 1.2, 12V power
Tracking
SteamVR 2.0 sensors, compatible with SteamVR 1.0 and 2.0 base stations
Audio
Built-in: 37.5mm off-ear Balanced Mode Radiators (BMR), Frequency Response: 40Hz – 24KHz, Impedance: 6 Ohm, SPL: 98.96 dBSPL at 1cm.
Aux Headphone Out 3.5mm
Microphone
Dual Microphone Array, Frequency response: 20Hz – 24kHz, Sensitivity: -25dBFS/Pa @ 1kHz
Image credit: Valve
Sam is the Founder and Managing Editor of Auganix. With a background in research and report writing, he has been covering XR industry news for the past seven years.