December 6, 2022 –  Gesture VR, a new life drawing-focused app created by virtual reality (VR) artist Nick Ladd, has today launched on Steam and through the Meta Quest App Lab, aimed at providing both experienced artists and beginners with a virtual space to hone their artistic skills.
Gesture VR is an app that simulates the experience of being in a Life Drawing studio. The app provides digital artists with access to over 120 unique photogrammetry scans of nude models, and enables artists to adjust the lighting, rotation and pose durations of models. Drawings are made with a versatile pen tool that can draw both in 2D on a paper pad or in 3D space, allowing artists to use their full range of motion when working and even reposition the pen to suit different drawing styles. Gesture VR also allows users to export and share their favorite sketches, plus up to four users can share a space simultaneously, allowing them to draw together while chatting and sharing techniques.
Commenting on the release of the artistic VR platform, Nick Ladd, Creator of Gesture VR, said: "As a former art student, I know how important life drawing classes can be to improving your drawing skills, but many places don't have access to good resources, and the price can get expensive for students. I made Gesture VR to level that playing field and help sharpen skills that will translate back into physical work."
Life drawing is a tradition that goes back hundreds of years and continues to be one of the best ways for artists to hone their craft. The power of VR is that it allows artists to draw with large kinetic movements, something that is perfect for capturing gestures, according to Ladd. Gesture VR will provide artists with access to a studio that they can return to time and time again.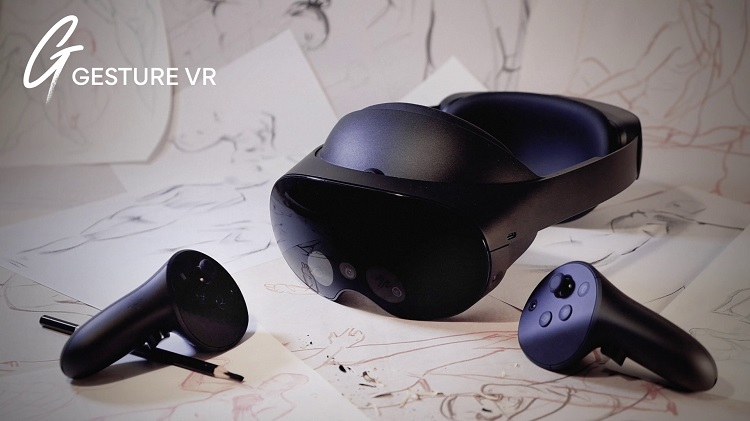 The full features of Gesture VR include:
Drawing:

Users can sketch in 2D on a paper pad, or draw in 3D in their surrounding space. Pressure sensitivity allows for lines to be made thicker/thinner and darker/lighter depending on how hard users push;

Models:

Gesture VR features over 130 unique poses from over a dozen different models. These poses are 3D scans of real, professional models representing various age groups and body types. Also available are some miscellaneous models including a skeleton, a horse, and anatomy guides;

Studio:

Users can choose from three environments: a traditional art studio, a white void, and a black void. The traditional studio is modeled after actual figure drawing  classrooms, complete with decorative objects that can also be used for studies;

Sketchbook:

Every time a user opens Gesture VR, they create a new page in a growing sketchbook. Users can add or delete pages from the sketchbook and revisit past drawings;

Multiplayer:

In the spirit of a real Figure drawing class, users can connect with up to three other artists and draw together from either the same model or different ones. This feature can be used to showcase sketches, practice together, share tips and tricks, or to simply socialize;

Sharing:

Artwork created in Gesture VR can be captured as 2D snapshots using the camera or exported as a PNG ready to be shared online;

Passthrough:

Artists can enable passthrough mode for a unique drawing experience that will allow them to draw from a virtual model whilst using real-world paper and tools. This experience will vary depending on the device being used.
Gesture VR is available today on Steam and through the Meta Quest App Lab for USD $13.99.
Image / video credit: Gesture VR / YouTube
Sam is the Founder and Managing Editor of Auganix. With a background in research and report writing, he has been covering XR industry news for the past seven years.