October 5, 2023 – Ballast Technologies (Ballast VR), a provider of virtual reality (VR) products for water parks and resorts, has recently announced that it has formalized a Preferred Vendor Agreement with Crystal Lagoons, a US-based company that brings beach venues to cities.
Ballast VR's technology allows users to enjoy immersive VR experiences and explore virtual landscapes whilst physically snorkeling in a swimming pool through the use of custom VR headsets. Crystal Lagoons develops a technology that allows crystalline lagoons (essentially man made beach-style venues) of unlimited sizes to be built and maintained at low costs.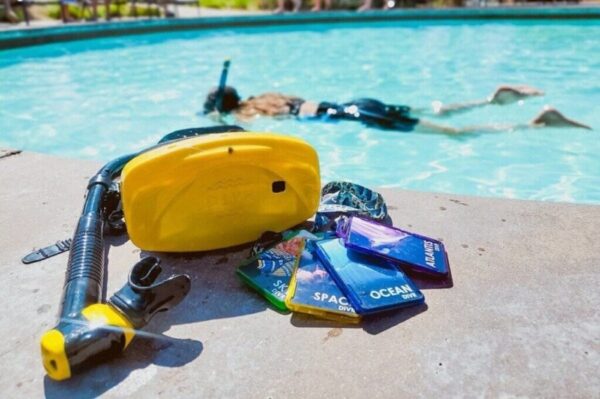 "Crystal Lagoons has consistently been at the forefront of aquatic innovation, boasting over 1100 projects in various stages of realization. These vast, glistening lagoons with their pristine sandy beaches provide an idyllic setting for DIVR," said Stephen Greenwood, Chief Executive of Ballast Technologies. 
According to Ballast VR, the agreement solidifies the endorsement of the company's 'DIVR' product for use at Crystal Lagoons amenities, and offers Crystal Lagoons developers to offer VR snorkeling technology to a growing segment of guests who are interested in a different kind of immersive experience. Ballast VR is already used in 45 destinations across 16 countries. 
"DIVR is more than just an experience; it transports guests to new worlds as they snorkel in the crystal-clear lagoon and appeals to guests of all ages. It has a proven track record of driving revenue for operators who embrace this technology. By incorporating the advanced capabilities of DIVR, [Crystal Lagoon] developers will not only gain a competitive edge in the thriving lagoon sector but also diversify their offerings, all while enhancing the irresistible allure of a crystalline lagoon," statedIvan Manzur, Senior Vice President of Sales at Crystal Lagoons. 
For more information on Ballast VR and its virtual reality experiences for water parks and resorts, please visit the company's website.
Image / video credit: Ballast Technologies / YouTube
Sinead is a freelance copywriter and marketing professional. She has many years of experience in covering industries including tech, utilities, and the environmental sector.