September 27, 2023 – Qualcomm Technologies, Inc. has today announced two new spatial computing platforms with the unveiling of the new Snapdragon XR2 Gen 2 and Snapdragon AR1 Gen 1 chipsets, which will bring the company's pioneering technology to the next generation of leading mixed reality (MR), virtual reality (VR) devices and smart glasses. 
Snapdragon XR2 Gen 2 Platform
According to Qualcomm, the XR2 Gen 2 platform is designed to "democratize premium MR and VR technology in a single chip architecture," which the company states will unlock gaming, productivity and entertainment experiences in thinner and more comfortable headsets that don't require an external battery pack.
Qualcomm stated that the Snapdragon XR2 Gen 2 platform features 2.5x better GPU performance compared to the XR2 Gen 1 platform, for richer visuals with enhanced clarity, textures, and colors at more frames per second. It is also optimized for resolutions up to 3K resolution per eye to deliver better pixel quality and high-fidelity visuals.
XR2 Gen 2 will also provide users with higher fidelity positional tracking with 8x better on device AI combined with accelerated computer vision, and support for up to ten concurrent cameras – meaning the platform will be able to unlock more precise interactions on devices.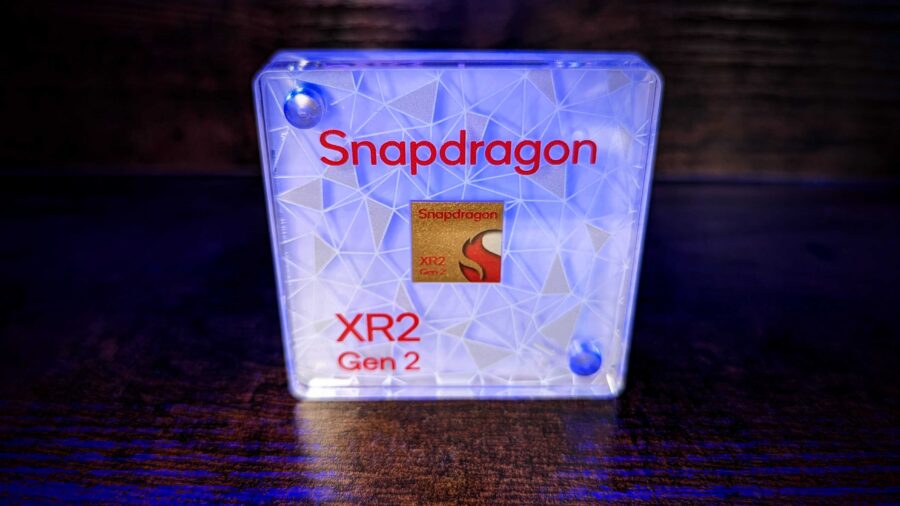 The platform also allows for the blending of virtual content with physical surroundings to seamlessly transition between MR and VR experiences, according to Qualcomm. Full-color video-pass-through capabilities with speeds as fast as 12ms will provide users with improved visual fidelity and digital comfort in MR experiences.
Other XR2 Gen 2 platform innovations include the Qualcomm FastConnect Wi-Fi 6E/7 Platform and the Qualcomm FastConnect Software Suite for XR, which will provide lag-free XR experiences and split rendering optimizations. To enhance the platforms' immersive capabilities, the Snapdragon Sound Technology Suite will enable spatial audio both on-device, as well as low-latency audio for users who connect wireless headphones or earbuds.
According to Mark Zuckerberg on stage at Meta Connect today, the Quest 3, which is powered by the new XR2 Gen 2 platform, will provide twice the graphics performance than Meta's Quest 2 predecessor.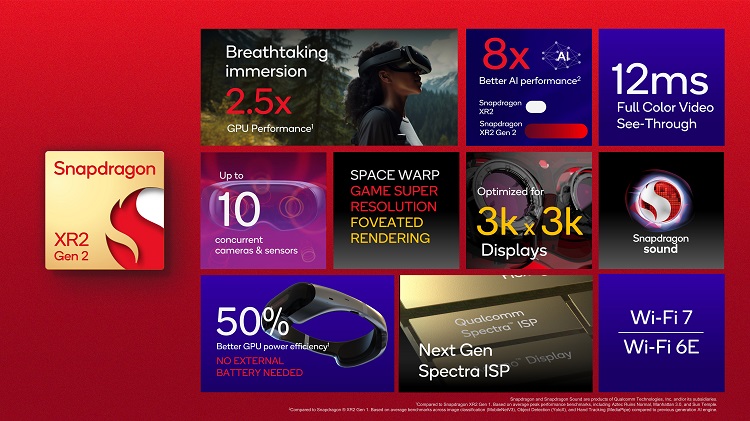 Snapdragon AR1 Gen 1 Platform
In addition to the XR2 Gen 2 announcement, Qualcomm has unveiled its new AR1 Gen 1 platform, which the company states has been uniquely designed with power optimizations to enable lightweight smart glasses that feature seamless capture, notifications, and powerful on-glass AI. 
Camera and Audio:

The Snapdragon AR1 Gen 1 Platform features a dual ISP for professional quality camera photos and videos that are captured from a first-person perspective. This will allow users to capture, share, or live-stream their point of view, hands-free, directly from the glasses. The platform also supports up to eight microphones. 

On-device AI:

AR1 Gen 1 will enable on-device AI, which will allow for image and audio quality enhancement, alongside visual search, real-time translation capabilities, and personal assistants. 

Display:

The platform also unlocks advanced smart glasses with support for binocular displays for a more comfortable and convenient visual heads-up display for content consumption including video, directions, notifications and more, that blend seamlessly in the users' field of view. 

Connectivity:

Ultra-fast connectivity using the FastConnect 7800 Wi-Fi 7 and Bluetooth 5.3 Platform will enable quick sharing of content directly from smart glasses, according to Qualcomm.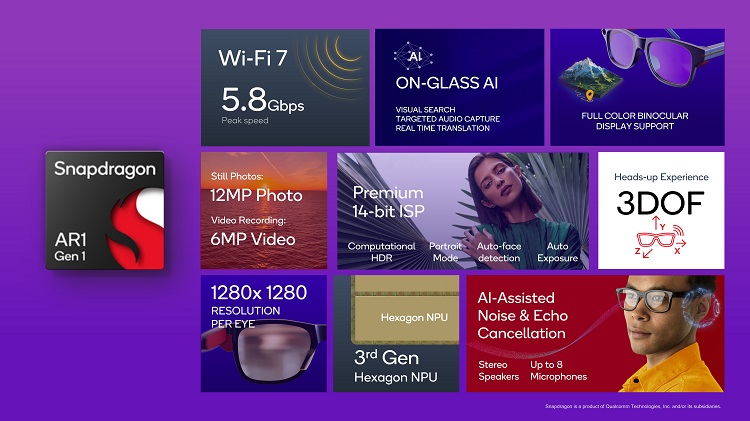 Both platforms will commercially debut on Meta devices in 2023: Meta Quest 3 powered by Snapdragon XR2 Gen 2 Platform, and Ray Ban Stories powered by Snapdragon AR1 Platform. 
"At Meta, we're focused on developing the technologies of the future in mixed reality and smart glasses, as well as the foundational innovations that will one day power our vision for AR glasses," said Andrew "Boz" Bosworth, Meta's CTO and Head of Reality Labs. "Building this future computing platform requires an industry-leading partner and this is where our long-standing collaboration with Qualcomm Technologies is critical. Together, we are defining next-generation technologies that deliver massive breakthroughs in power, performance, and AI. The latest Snapdragon XR2 Gen 2 and Snapdragon AR1 Platforms, which power Meta Quest 3 and our next-generation Ray-Ban Meta smart glasses, are another testament to the strength of this partnership and we are thrilled for users around the world to experience them."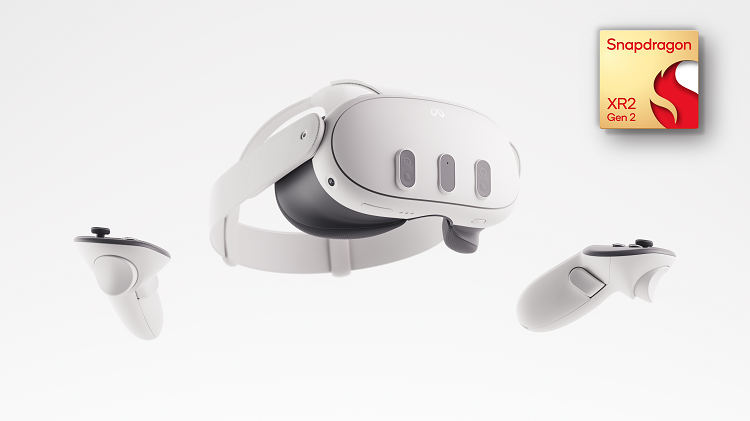 "Qualcomm Technologies has a relentless commitment to building pioneering XR technology and solutions that will transform the future of spatial computing. The Snapdragon XR2 Gen 2 and Snapdragon AR1 Platforms are the latest purpose-built processors that are designed to power the next generation of MR and VR devices and sleek smart glasses for all," said Hugo Swart, vice president and GM of XR at Qualcomm Technologies, Inc. "The commercial debut of these two platforms with our partners at Meta is a further step forward in realizing our joint vision – unlocking premium, all-in-one XR devices and smart glasses that are affordable to users around the globe." 
For more information about Qualcomm's Snapdragon XR 2 Gen 2 platform, click here. To learn more about the AR1 Gen 1 platform, click here.
Image credit: Qualcomm Technologies, Inc.
Sam is the Founder and Managing Editor of Auganix. With a background in research and report writing, he has been covering XR industry news for the past seven years.