December 14, 2022 – Kopin Corporation, a developer and provider of high-resolution micro-displays and advanced optics for wearable headset products, has announced a joint technology solution with OPTAC-X, a telehealth company, and RealWear, a provider of hands-free, assisted reality, rugged wearable headsets.
OPTAC-X's system offers LTE and SATCOM enabled telehealth – designed to enable life-saving capabilities to medics and first responders in combat and other hostile environments. The solution utilizes RealWear's assisted reality wearable which features Kopin's display and optic technologies.
According to the companies, the OPTAC-X telehealth system with global hybrid LTE and SATCOM connectivity by Kymeta Corporation enables in-field medics to instantly consult with the OPTAC-X network of remote physicians and surgeons to aid them in performing advanced life-saving procedures and prolonged field care in severe environments.
With the system's real-time video and voice communications, deployed medics and remote doctors can see injured persons and communicate, enabling immediate life-saving and prolonged field care oversight and assistance. The system's voice control enables full hands-free operation and control so that medics can focus on patients.
RealWear provides assisted reality headsets with devices that are fully voice-driven (up to 100dBA) and rugged rated up to and including military standards (IP66, MIL-STD-810H, 6.5 feet / 2-meter drop). The device has been successfully deployed for telemedicine and telesurgery by medical teams supporting emergency care as a result of military actions, including for emergency open heart surgery.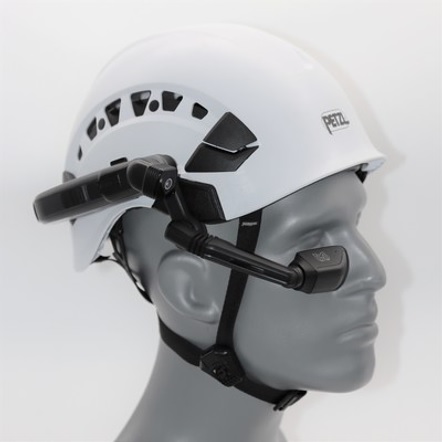 Kopin's Golden Pearl optical module, a key component in RealWear's assisted reality headsets, contains a 0.32″, 24-bit full color, high-brightness LCD micro-display, efficient white LED backlight and curved prism optics with nano-structures. Kopin's A914 driver ASIC, together with the high-brightness Golden Pearl optical module, has low power consumption and produces a bright, full color image.
As part of OPTAC-X's telehealth system, the RealWear Navigator 500 HUD device (shown above) connects via OPTAC-X's proprietary cloud technology and globally monitored, secure network. Physicians utilize the network to send video assets, images, charts or other material in 1080p that deployed medics can reference through the hands-free HUD device while simultaneously treating an injured soldier.
"It is incredibly rewarding to know that Kopin's micro-display technology will play such an important role in providing aid and life-saving support through OPTAC-X's telehealth solution," said Greg Truman, Head of Kopin's Industrial and Enterprise Display Business. "Our Golden Pearl optical module will offer OPTAC-X's military and medical end users a means of viewing critical information in a comfortable eye box and small form factor."
As a large supplier of micro-displays for the US military, Kopin has delivered advanced display systems that are inside more than a quarter million deployed systems, according to the company. These systems include thermal weapon sights, night vision systems, pilot helmets, including for the F-35 Joint Strike Fighter, and target locators.
For more information on Kopin and its micro-display solutions, click here. To learn more about OPTAC-X and its telehealth offering, click here. To find out more about RealWear and its assisted reality wearables, click here.
Image credit: RealWear / OPTAC-X / Kopin Corporation
Sam is the Founder and Managing Editor of Auganix. With a background in research and report writing, he has been covering XR industry news for the past seven years.