In Augmented Reality and Mixed Reality News
May 18, 2021 – DigiLens Inc., a provider of holographic waveguide display technology for extended reality (XR), has today announced its 'Design v1′, the company's first pair of smart glasses from its Visualize Framework, designed to help power the XR industry forward by giving content developers, OEMs and IoT companies a springboard hardware platform to build on in order to create unique XR experiences. 
Similar to how Qualcomm unveiled its AR Smart Viewer Reference Design earlier this year, DigiLens' announcement today means that developers and manufacturers now have access to another XR device for reference, upon which they can build or tweak certain aspects of the hardware design in order to meet the needs of their own XR projects.
DigiLens' Design v1 integrates the latest Qualcomm Snapdragon XR2 Platform within its core glasses frame. It also houses the DigiLens Crystal50 waveguide, which the company states provides a waveguide efficiency of over 325 nits/lumen with 80% transparency and a 50-degree field-of-view. DigiLens noted that Design v1 units are shipping now to select partners and will be available in volume by early summer.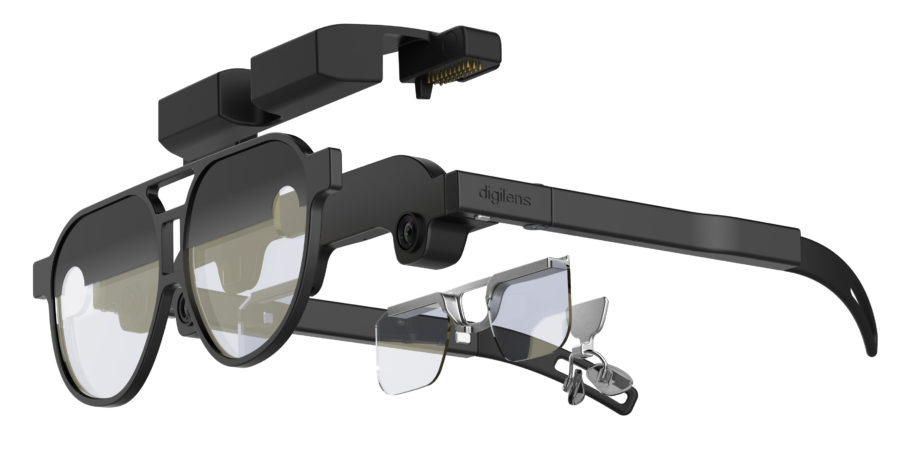 The company's Visualize Framework aims to break down some of the barriers that have been gating mass adoption of a compelling XR offering. DigiLens states that the modularity of its Design v1 allows for customization at the individual component level (electronics, displays, PGUs and design) and the hardware architecture allows companies to iterate on aspects such as form, fashion, cost, performance and reliability independently, yet in parallel with other parts. Finally, the company states that its Visualize Framework has been designed to adapt to software specifications, rather than developers having to fit within the constraints of available hardware.
"Design v1 is brighter, lighter and more capable than any other waveguide based XR device on the market. Our strategy is to empower the forward leaning XR companies in the ecosystem to capitalize on the strengths of an emerging horizontal market," said Chris Pickett, CEO of DigiLens. "We are creating an XR blueprint for the ecosystem to take, add to and adapt as needed for their individual markets and their unique XR software development needs. Expanding the pool of experts and democratizing ideas across the spectrum is what the market has missed to date."
According to DigiLens, its Crystal50 waveguide includes:
Waveguide efficiency measurement of over 300 nits/lumen;

Transmissivity rating of up to 80%;

Eyebox of 12mm-by-10mm;

44°(h)-by-25°(v), 50°(d) field-of-view; and 

Landscape orientation and "a focus distance of infinity."
DigiLens Design v1 will be available to qualified partners starting at the end of June 2021. For more information on its new reference design, please visit the company's website.
Image / video credit: DigiLens Inc.
Sam is the Founder and Managing Editor of Auganix. With a background in research and report writing, he has been covering XR industry news for the past seven years.