May 10, 2021 – Gaumard Scientific Co., a provider of simulation technology for healthcare education and training, has recently announced the unveiling of 'Obstetric MR' for 'VICTORIA', a new mixed reality (MR) training solution designed to help learners achieve clinical competency faster and more efficiently when training in childbirth procedures. 
In developing the Obstetric MR software, Gaumard's engineering team collaborated with Microsoft to fulfill a vision of the future of simulation-enhanced healthcare learning. The Obstetric MR system is comprised of a HoloLens 2 device preloaded with new software for the VICTORIA S2200 maternal and neonatal care patient simulator – a life-sized anatomically accurate model/doll of a pregnant mother that is packed full of sensors and is used as a childbirth training tool by medical schools, nursing schools, and hospitals worldwide.
The comprehensive mixed reality system uses the HoloLens 2's advanced holographic imaging technology and allows the wearer to see inside VICTORIA and observe the dynamic physiology and anatomy underlying difficult deliveries.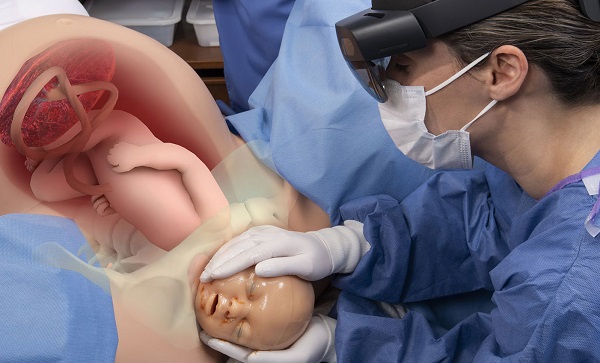 According to the company, Obstetric MR features include:
An interactive orientation in which learners "meet the patient." The technology enables the exploration of VICTORIA's features through the life-sized virtual model;

Programmed scenarios and manual operation that allow healthcare educators to enhance the provided scenarios and create new custom ones;

Multiple self-paced learning modalities that allow users to study a variety of deliveries on a life-sized virtual patient with the help of a virtual assistant;

A fully interactive and responsive experience where learners can observe the rotation of the pelvis as well as learn about how to prevent birth injuries such as shoulder dystocia with different maneuvers;

Real-time synchronization that enables learners to study the mechanics of childbirth, including normal delivery, shoulder dystocia, breech, and more.
"We have taken the industry's most technologically advanced, widely used OB simulator and created a new, highly engaging experience to provide deeper learning and understanding," said John Eggert, Gaumard's Executive Vice President. "By synchronizing holograms with the physical world, Obstetric MR enables learners to see mother and baby in an extensive range of birthing scenarios that one might never encounter until clinical practice. Mixed reality provides an unparalleled learning experience."
For more information on Obstetric MR and a video of how the mixed reality solution works in conjunction with the physical VICTORIA training tool, please visit Gaumard's website.
Image credit: Gaumard Scientific Co.
Sam is the Founder and Managing Editor of Auganix. With a background in research and report writing, he has been covering XR industry news for the past seven years.