February 22, 2021 – The UK Ministry of Defence (MoD) has recently gone to tender for its 'Defence Virtual Simulation 2' (DVS2) contract, which has a value of between GBP £10 million and GBP £30 million.
The Training & Simulation System Programme (TSSP) team, part of Defence Equipment & Support (DE&S) within the UK MoD, has stated that it is considering the potential requirement for the provision of a DVS2 solution to provide a "common, interoperable, accessible and deployable software enabler(s) for simulation-based activity across Defence."
According to the MoD, it anticipates that DVS2 will provide a low fidelity, common virtual simulation tool that exploits commercial off-the-shelf (COTS) games-based technology and will be intended for use as widely as possible. DSV2 will therefore help to underpin the interoperability of several training systems, enabling its use for applications including decision support, research and development, training, and operations planning and rehearsal.
The MoD noted a requirement for several training and simulation examples across a range of areas, including in:
Military vehicles;

Security equipment;

Firearms and ammunition;

Warships;

Aircraft, missiles and spacecraft; and

Military electronic systems.
Currently, the existing version of the MoD's Defence Virtual Simulation acts as a common tool providing inter-operable, accessible and deployable simulation capabilities. DVS capability is delivered by Bohemia Interactive Simulations (BISim) in the form of the company's Virtual Battlespace 3 (VBS3), which is a desktop-based solution that enables simulated activity across all levels of training, including live and virtual simulation, education and experimentation. 
BISim announced last year that it had signed on to continue working with the British Army for the second phase of the Virtual Reality In-Land Training (VRLT) pilot program. The company also offers a range of virtual reality (VR) simulations for defence purposes.
Although the MoD has not explicitly stated that it is looking specifically for a full VR solution, something of the sort would likely be well suited to meeting the needs of the contract. According to Rusty Orwin, BISim's Head of Sales UK, Ireland and BISim's VRLT Project Director: "Soldiers in VR are more engaged, taking training seriously but also clearly enjoying it more too, and they are more focused during training, which should better prepare them for live training."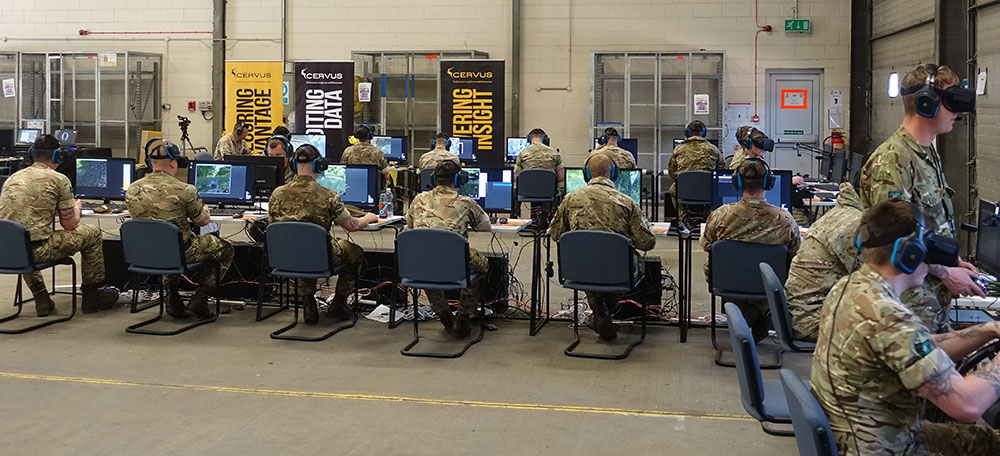 The MoD requires a solution that will be interoperable with existing and future simulations, both nationally and internationally, through the use of open standards and import and export content in open standards (DMaSC & CIGI compliant). Furthermore, the solution will be licensed COTS that will provide enterprise, unrestricted use and distribution by the MoD, thereby enabling widespread use and development opportunities. The UK government department also noted that interoperability with Allied nations is also highly desirable.
Finally, the MoD noted that should it wish to take forward the potential requirement then it will be expected that the preferred supplier would be able to demonstrate, implement and ultimately manage a solution capable of operating on standard COTS hardware over a period of up to 10 years. The contract start date is listed as April 1, 2022, with an end date of March 31, 2030.
The deadline to apply for the contract is April 1, 2021 at 5pm GMT. For more information on how to apply, please email contact@auganix.org.
To stay up to date on the latest contract notice and award information, make sure you sign up to the Auganix weekly mailing list.
Image credit: Ministry of Defence / Gov.uk / Bohemia Interactive Simulations
Sam is the Founder and Managing Editor of Auganix. With a background in research and report writing, he has been covering XR industry news for the past seven years.