May 20, 2022 – Qualcomm Technologies, Inc., a global provider of semiconductors and XR technology, has today announced another milestone in its aim of making extended reality (XR) the next computing platform with its new Wireless AR Smart Viewer Reference Design, powered by the Snapdragon XR2 Platform.
The Wireless AR Smart Viewer eliminates the cord between an augmented reality (AR) glass device and a compatible smartphone, Windows PC, or processing puck, whilst still managing to achieve virtually lag-free AR experiences, according to the Qualcomm. The company added that the new cord-free reference design will help OEMs and ODMs more seamlessly and cost-efficiently prototype and bring to market lightweight, premium AR glasses to enable immersive experiences that unlock the metaverse.
Qualcomm has packed its purpose-built Snapdragon XR2 Platform into a slim, smaller AR glass form factor that still delivers powerful performance. The AR reference design hardware, developed by Goertek, has a 40% thinner profile and a more ergonomically balanced weight distribution compared to the AR Smart Viewer powered by the Snapdragon XR1 Platform, meaning increased comfort for wearers, and showing that adding wireless does not always mean the form factor of a device has to be increased.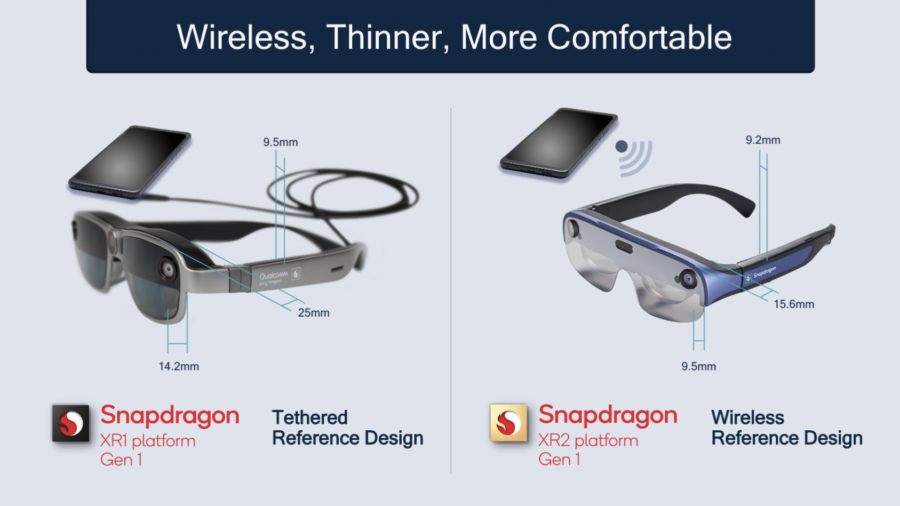 SeeYA provides the device's dual micro-OLED binocular display enabling 1920 x1080 resolution per eye and frame rates up to 90Hz, as well as a no-motion-blur feature to deliver a seamless AR experience. Dual monochrome cameras and one RGB camera on the smart viewer enable six-degrees of freedom (6DoF) head tracking and hand tracking with gesture recognition to achieve AR precision.
The reference design also enables a wireless split processing architecture to distribute computing workloads between a smartphone and the AR glass. To achieve truly immersive AR experiences, the device obtains < 3ms latency between the smartphone and AR glass, according to Qualcomm. With the company's FastConnect 6900 solution, the reference design offers Wi-Fi 6 / 6E and Bluetooth connectivity, allowing users to receive the fastest commercially available speeds and increased range. Plus, Qualcomm's new FastConnect XR Software Suite will grant system integrators and application developers access to:
Better control and preferential channel access for XR traffic to improve M2R2P (motion-to-render-to-photon) latency, reduce jitter, and avoid unwanted interference; and

Purpose-built power modes for low power operation, without impacting latency performance for longer, sustained XR experiences.
Commenting on the FastConnect XR Software Suite, Hugo Swart, VP & GM of XR and Metaverse at Qualcomm explained that not all data requires the same amount of performance that XR data does. For XR functionality, an XR device needs to send data to a smartphone or computing device, which performs a compute task and then returns data to the XR device. Therefore, data needs to be sent extremely quickly, at the lowest possible latency. In order to manage this, it needs to be possible to prioritize the traffic and data that is being sent. Plus, in something like an AR glass form factor, power is one of the top requirements and concerns. Everything has to be running at the lowest possible power, so this results in a design tradeoff between power, latency, and throughput. This is essentially what the FastConnect XR Software Suite addresses.
Key specifications of the Wireless AR Smart Viewer Reference Design include:
Very low-latency, yet high bandwidth solution;

Dual 0.49" micro-OLED displays that provide 1920 x 1080 resolution at 90Hz refresh rate;

Free Form Optics;

Close to 40 degrees diagonal field-of-view (FoV);

Weight 115grams;

Frame thickness 15.6mm;

Three cameras for computer vision: Two 6DoF greyscale cameras for perception algorithms and tracking, and one RGB camera that allows users to stream what they see;

Bluetooth connectivity for connecting something like an additional controller;

Battery size – 650mAh;

Larger attachable battery option for extended use sessions.
In its announcement, Qualcomm stated: "Through the pairing of premium technology and form factor innovation, Qualcomm Technologies will continue to enable the diverse consumer and enterprise needs to help scale AR to the masses."
When asked on a press call whether Qualcomm was working with any other companies on any devices based on the new Wireless AR Smart Viewer (in a similar way that it worked with Lenovo for their original tethered AR reference design that was released back in January last year), Swart confirmed that there are at least four companies that Qualcomm is working with. However, he did not disclose who, and noted that it generally takes at least up to a year before companies are able to go to market with such devices.
The Wireless AR Smart Viewer reference design is currently available for select partners, with wider availability expected in the coming months.
For more information on Qualcomm and its solutions for XR, please visit the company's website.
Image credit: Qualcomm
Sam is the Founder and Managing Editor of Auganix. With a background in research and report writing, he has been covering XR industry news for the past seven years.