March 5, 2021 – Travis Air Force Base (Travis AFB) located in Solano County, California, and part of the US Air Force (USAF) has announced that leaders from across its 60th Air Mobility Wing recently took part in a virtual reality (VR) suicide prevention training test phase. 
The 30-minute training, which took place at the base from February 17–19, is aimed at helping Airmen's comfort in engaging with others to prevent suicide and involves participants putting on a VR headset and entering a scenario in which they interact with a person who is in obvious emotional distress. The goal is for the participant to convince the distressed person to get help by asking a combination of questions. If participants don't ask the right questions then a training coach chimes in to assist the participant.
The technology behind the training was READY VR, an AI-powered platform for immersive learning experiences developed by Moth+Flame, a virtual reality developer that's worked with Netflix, Taylor Swift, Discovery, and more, and is now creating tailored VR training programs for government and enterprise.
"We are excited and highly motivated to be the catalyst for this innovative suicide prevention program," said Brig. Gen. Norm West, Air Mobility Command Surgeon General. "The VR scenario is very realistic and this is the type of training we need to save lives in the real world. One life lost to suicide is too many".
Air Mobility Command (AMC) is the first VR project in the Department of Defense (DoD) to utilize immersive, conversational training for suicide prevention. "We believe this training will not only save lives but prepare our Airmen for tough conversations that will build a more resilient force," added Victor Jones, AMC Suicide Prevention Program Manager.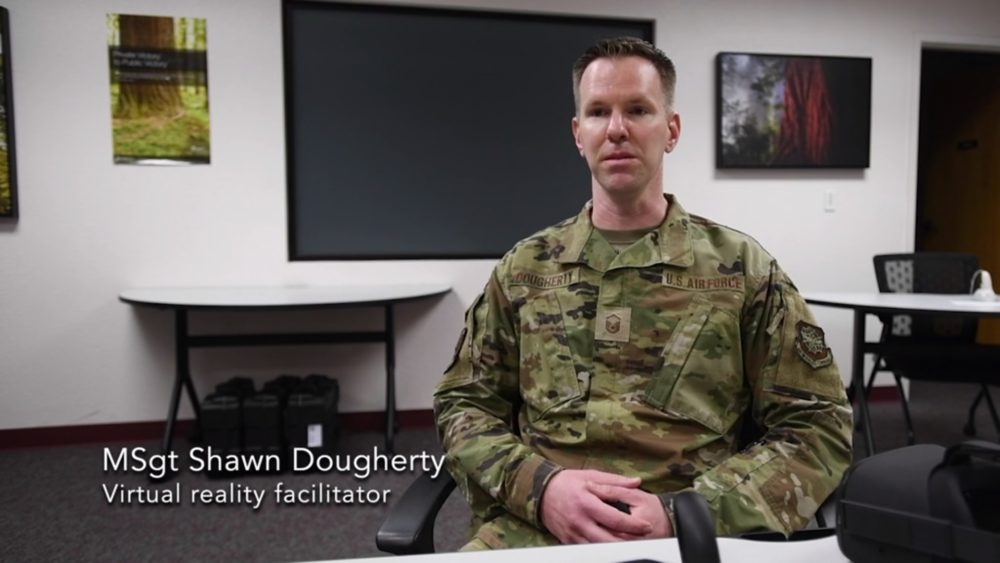 According to, Master Sgt. Shawn Dougherty, a VR training facilitator at the base, one of the most common occurrences in the current training, which involves role playing with fellow trainees, is that when someone needs to say something tough, they don't say it as loud as the rest of what they say.
"The unique part of this VR training is that it's voice-activated, so you're required to say things out loud that maybe you've never had to say before," said Dougherty. "Actually saying phrases to Airmen in distress like 'do you have a gun in the house?' … or 'Are you thinking about harming yourself?'"
Travis AFB, along with Scott AFB in Clair County, Illinois, were selected as pilot bases for this first phase of the training. During this phase, base leadership, squadron commanders, superintendents and first sergeants are participating in close-to-real-world, virtual scenarios.
The training lines up with the Air Force's 'A-C-E protocol', which encourages Airmen to Ask, Care and Escort someone in distress. The primary audience for the first phase of the pilot program is the Air Force's leadership, according to Dougherty, who continued: "We're having wing leadership come in because their feedback is vital to making sure that we get this program right." He added, "We have to have the best solution to roll it out and reach as many Airmen as possible."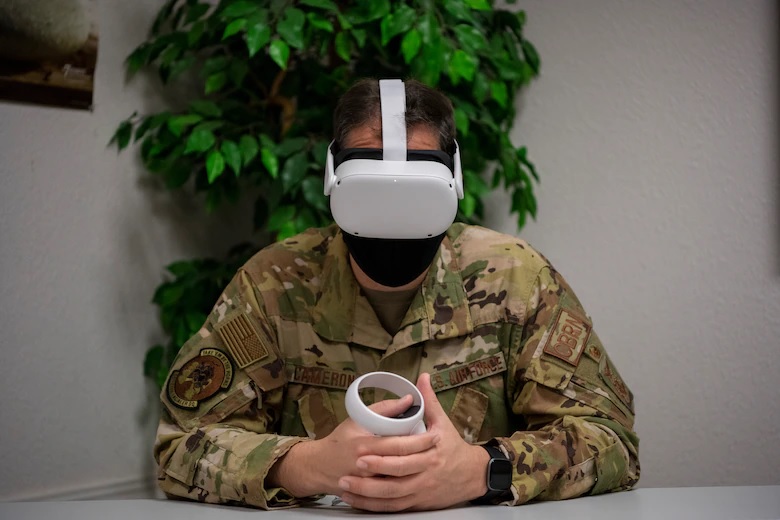 Lt. Col. Glenn Cameron, 60th Civil Engineering Squadron Commander, who leads one of the largest squadrons on base, commented: "It's a pretty intense experience, to be honest," Cameron said. "You actually see a bona fide actor who doesn't feel like anything except a real human being talking to you, and he gives you real answers, and there's an interaction that gives you an opportunity to see when you cheese it up, he calls you out."
Cameron noted that having the training available to Airmen would be of benefit to them all, as it helps them deal with the difficult topic of Suicide and can provide an opportunity in which Airmen can have conversations that are not easy to have.
For more information on how the US Air Force is using virtual reality as part of its day to day operations and training, click here.
Video / image credit: US Air Force video/photo by Nicholas Pilch
Sam is the Founder and Managing Editor of Auganix. With a background in research and report writing, he has been covering XR industry news for the past seven years.