September 25, 2023 – Mercedes-Benz has recently announced that it has partnered with NVIDIA to leverage NVIDIA Omniverse's digital twin capability. According to Mercedes-Benz, the partnership introduces new production techniques that will bring its next-generation vehicle portfolio into its manufacturing facilities operating in Rastatt, Germany; Kecskemét, Hungary; and Beijing, China — and offer a blueprint for its more than 30 factories worldwide.
NVIDIA's Omniverse is a platform for developing Universal Scene Description (OpenUSD) applications to design, collaborate, plan and operate manufacturing and assembly facilities. Mercedes-Benz announced at the beginning of this year that it is utilizing the Omniverse platform, particularly its digital twin capabilities, as part of its production process.
In the production of automobiles, avoiding costly manufacturing production shutdowns is of course critical. NVIDIA noted that by running simulations in Omniverse, it enables factory planners to optimize factory floor and production line layouts for supply routes, and allows for production lines to be validated without having to disrupt production.
With Mercedes-Benz investing in a "Digital First" approach, the automaker aims to enhance efficiency, avoid defects and save time, whilst increasing the flexibility, resilience and intelligence of its Mercedes-Benz MO360 production system.
According to NVIDIA, Omniverse has enabled plant suppliers and planners to interact with each other in a virtual environment, to ensure that layout options and automation changes can be incorporated and validated in real time. As a result, the platform is able to help accelerate how quickly new production lines can reach maximum capacity and reduce the risk of re-work or stoppages.
The company further noted that utilizing digital twins in the automotive production process helps to ensure that assembly lines can first be retooled, configured and optimized in physically accurate simulations.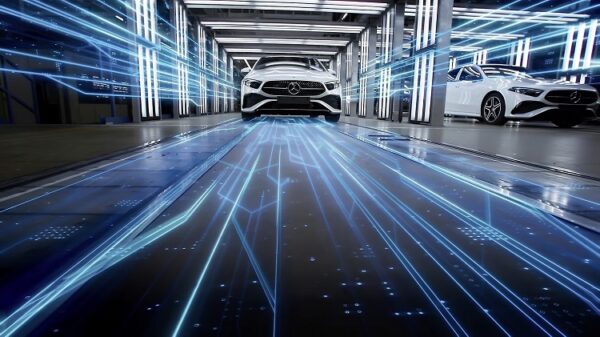 The Kecskemét plant is Mercedes' first with a full digital twin of the entire factory. The digital twin includes the entire building and the infrastructure in it, as well as break areas and changing rooms for the employees. According to Mercedes, with this digital twin for production, assembly areas can be planned, retooled and inspected virtually while taking into account short distances, sufficiently wide aisles, and even fire protection.
As a result, the new assembly lines in the plant will enable production of vehicles based on the newly launched Mercedes Modular Architecture that are developed virtually using digital twins in Omniverse.
"Mercedes-Benz is initiating a new era of automotive manufacturing thanks to the integration of artificial intelligence, MB.OS and the digital twin based on NVIDIA Omniverse into the MO360 ecosystem," said Jörg Burzer, member of the board of the Mercedes-Benz Group AG, Production, Quality and Supply Chain Management. "With our new 'Digital First' approach, we unlock efficiency potential even before the launch of our MMA models in our global production network and can accelerate the ramp-up significantly."
"Using NVIDIA Omniverse and AI, Mercedes-Benz is building a connected, digital-first approach to optimize its manufacturing processes, ultimately reducing construction time and production costs," added Rev Lebaredian, vice president of Omniverse and simulation technology at NVIDIA.
In addition to these advancements, Mercedes-Benz stated that the introduction of AI opens up new areas of energy and cost savings, for example, at itsRastatt plant, which is being used to pioneer digital production in the paint shop. The automaker stated that it  used AI to monitor relevant sub-processes in pilot testing, which led to energy savings of 20%.
For more information on Mercedes-Benz and its digitalization objectives, click here. To find out more about NVIDIA Omniverse, click here.
Image credit: NVIDIA / Mercedes-Benz
Gavril is a knowledgeable contributing author at Auganix. An experienced XR industry news curator, he has been keeping abreast with the latest AR, VR and tech developments for the last four years.