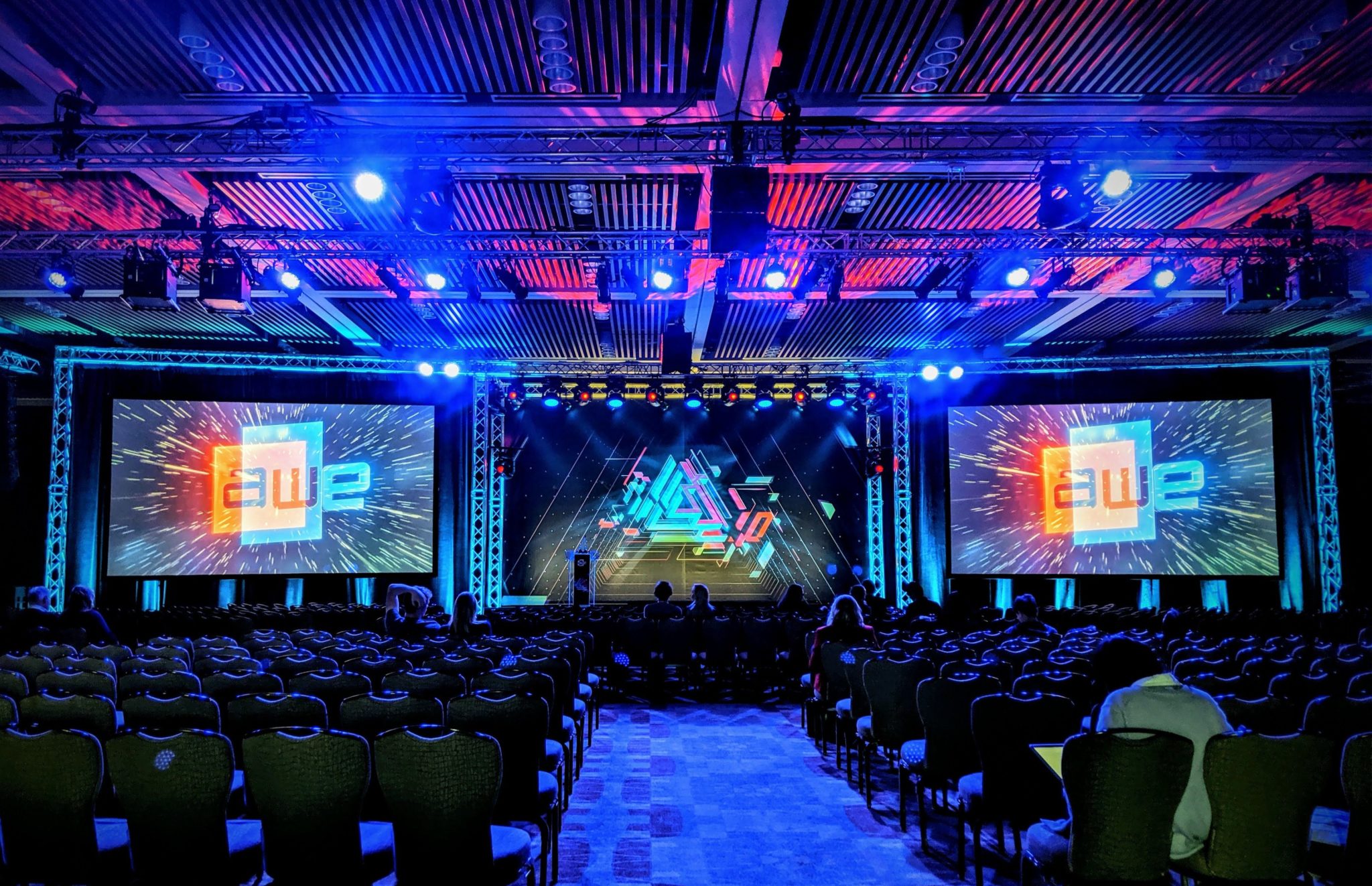 In Augmented Reality and Virtual Reality News
April 26, 2021 – AWE, a leading extended reality (XR) community complemented with a series of worldwide events focused on the business of augmented reality (AR), virtual reality (VR) and the Metaverse, has today announced its most recent wave of sponsors, speakers and exhibitors participating in its AWE USA 2022 event and conference.
Hugo Swart, VP & GM of XR and Metaverse at Qualcomm is the newest confirmed Keynote speaker. Swart joins other Keynote speakers including Unity Technologies CEO, John Riccitiello. The 2022 iteration of AWE USA continues its momentum since the return of the event in 2021 by the more than 250 exhibitors and speakers already registered in advance for the June 1-3 show in Santa Clara, CA. For the full list of speakers, click here. 
The event agenda (subject to change) is also now available, and includes key vertical markets such as Healthcare and Wellness, Enterprise, AI and Virtual Beings, amongst others. In addition, a wide range of companies, including Qualcomm, Avatar, HP, Meta and Niantic, have now been announced as sponsors.
More than 250 exhibitors are expected to make some of the year's most compelling and important XR-related announcements at the event, with a wide range of hands-on demos available to the expected 5,000+ attendees across 100,000 sq. ft. of exhibit space at the Santa Clara Convention Center.
"With just 5 short weeks left until AWE 2022, we are gratified to meet once again, face-to-face in Santa Clara as well as virtually on AWE.live," said AWE co-founder Ori Inbar. "AWE and AWE.live are twin antipodes that intersect to form the beating heart of the XR industry. AWE continues to redefine how the XR community can make itself heard not just at the event itself, but 24/7/365 through a wide range of symposia, talks and conversations on AWE.live. We are already seeing a 'hockey stick' of interest as the show nears opening day from sponsors, exhibitors and attendees alike. To make sure the event is accessible to everyone in the XR community, we offer heavily-discounted educational passes for students and educators as well as volunteer opportunities in exchange for a free ticket – join us and see the future of XR, today!"
Furthermore, as was announced last month by AWE, the event is making special free resources available to Ukrainian developers and companies, including free exhibit space and free online job postings. 
In addition to in-person events and conferences, AWE provides a true XR ecosystem and marketplace where end-users can meet solution providers in a curated setting. As such, AWE offers:
For more information on AWE and its AR and VR conferences and expos, click here.
Image credit: Auganix
Sam is the Founder and Managing Editor of Auganix. With a background in research and report writing, he has been covering XR industry news for the past seven years.